Why Social Volume is a Great Metric to Measure When Gauging a Crypto's Performance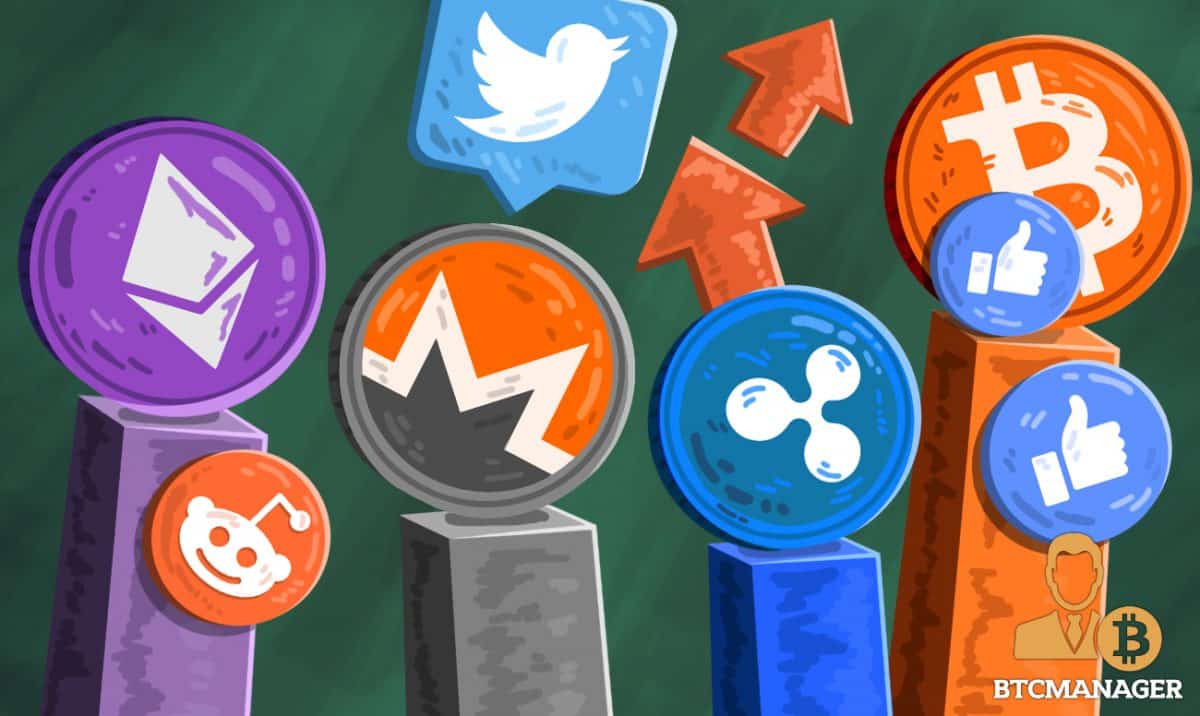 Investors should use social volume as a metric to measure a cryptocurrency's performance since public debate concerning cryptocurrencies tends to occur on social media platforms like Twitter, Reddit, and Facebook.
As an "instrument of the 21st century, [cryptocurrencies]… are publicly debated, discussed, marketed, pumped, and dumped on social media," said Amir Feder, chief data scientist of Solume, on a Medium blog post.
Social media has always played an integral role in cryptocurrencies. From its inception to global discussions today, these platforms helped developers, innovators, and changemakers build and create a community to support the growing movement.
Investors should, therefore, take note of social volume and mentions, and track these metrics. While this may be tricky, there are online tools available like Solume and Cryptometrics which can come in handy when it comes to cryptocurrency investing.
Why Social Volume is an Important Metric to Follow
Social volume is a great metric for cryptocurrency investors because of the impact of social media on the cryptocurrency industry. Cryptocurrencies have always shared a strong relationship with online forums and social media platforms even in its earliest days.
In 2008, when Satoshi introduced the concept of bitcoin and blockchain technology, he leveraged online websites from the P2P Foundation, the Linux Foundation, and Bitcointalk.org. The global reach and people on these online communities helped Bitcoin gain further awareness which spawned a new community. Online forums and specialized social media groups began to facilitate discussions and foster new ideas, assisting early adopters develop the cryptocurrency ecosystem to what it is today.
Measuring Social Volume
While measuring social volume can be difficult, there are online tools designed to help cryptocurrency investors. Solume is a great tool used to gauge the social volume and popularity of a large number of coins. Their website allows investors to see the relationship between the coin's number of mentions on social media and its price in USD or BTC. Here is an example of Monero's social chart over the last seven days.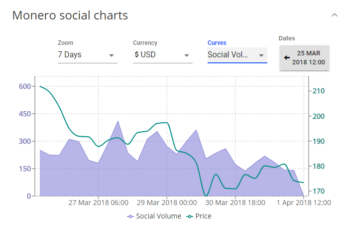 Source: Solume
Solume also provides other options which include comparing the price of the cryptocurrency about sources that mention it. These sources include Reddit, Twitter, and bitcointalk.org.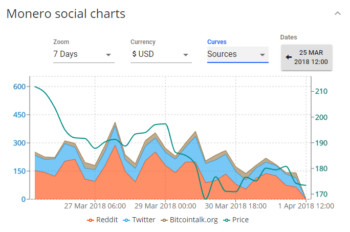 Source: Solume
Investors can also assess the levels of sentiment associated with the cryptocurrency. When there are high levels of negative press as seen here, it often has a direct influence on the price of the coin.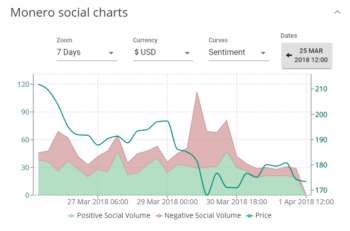 Source: Solume
Aside from these informative graphs, Solume also lists the most recent Reddit and Twitter social posts. Solume is a handy tool for investors who want to gauge the general social buzz and have a clear understanding of the social volume concerning a specific coin.
An alternative website is Cryptometrics. Upon quick inspection, Cryptometrics appears very complicated. However, it's very simple for investors to use. Unlike Solume, Cryptometrics only focuses on two social media platforms: Reddit and Twitter. Cryptometrics helps investors understand how well their coin has been performing in the last 1,7,30, and 90 days.
To use an example, the chart below demonstrates that in the last seven days, Monero has 1069 Reddit posts with an increase of 0.87 percent in posts during the previous seven days.

Source: Cryptometrics
As for Twitter, the chart below demonstrates that in the last seven days Monero had 1820 tweets with an increase of 0.65 percent in posts over the previous seven days.

Source: Cryptometrics
Social media platforms will continue to play a significant role in the development of cryptocurrency community. It is therefore wise for investors to leverage existing tools to continuously assess the social volume and buzz when it comes to predicting the future value and cryptocurrency coins.
BTCManager has reported on a study which explains while social media has some influence to cause large demand shocks, known as the 'buzz factor,' however, such social media impact, in essence, is not substantial enough to stimulate price. Instead, the technological innovation factor is more important for explaining price changes.