Atari Jumps on the Bandwagon, New Cryptocurrency Coming Soon! (Q1 2018)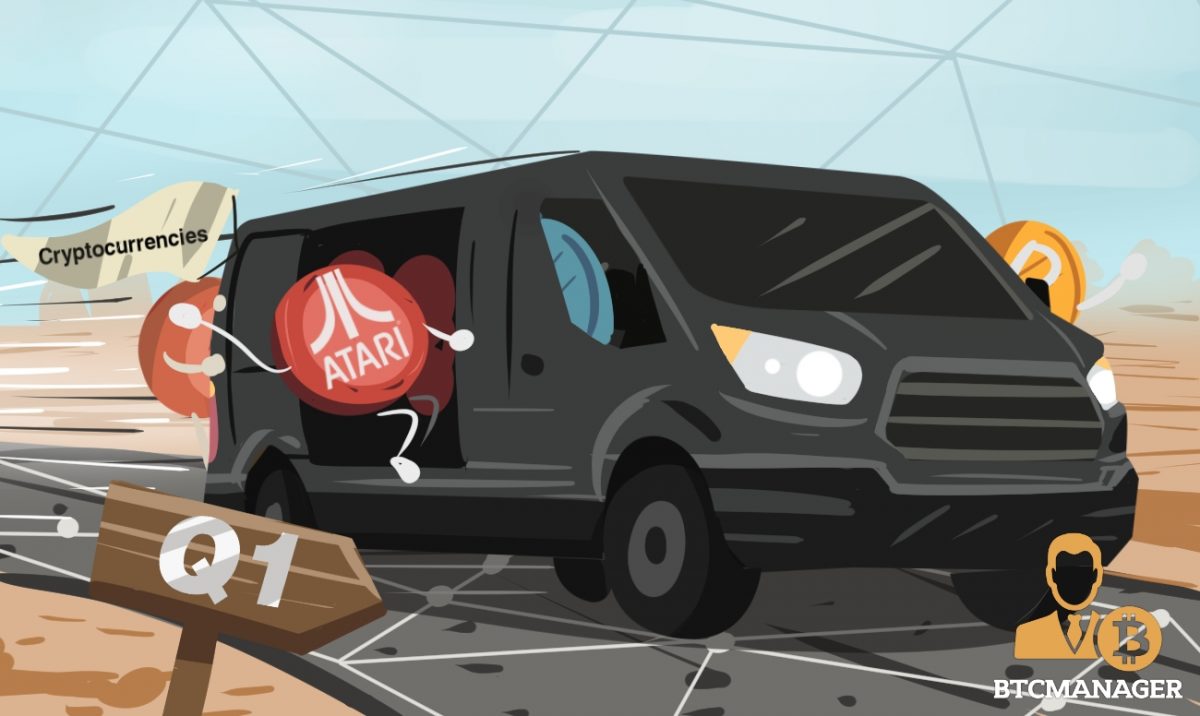 It seems every teetering company is jumping on the cryptocurrency bandwagon looking to turn a quick profit on the cryptocurrency and blockchain craze. Blockchain technology is revolutionary and is clearly penetrating all forms of business. However, it seems more and more companies are looking to capitalize on the fundraising ability of having an initial coin offering (ICO). Atari is another one of the many companies implementing their own uses of the blockchain or holding their own coin offering entirely.
Blockchain Penetration of the Business Landscape
Companies are expeditiously trying to implement the blockchain for security, transparency, and the benefits of transacting on it. There are many benefits of having an internal blockchain, but many struggling companies are taking this one step further by having their own ICOs. Kodak has been one of the companies teetering on the brink of existence and relevance since they were not able to successfully transfer from the camera film industry during the advent of the digital camera. Now facing the likelihood of becoming complete obsolete Kodak decided to release their own token. They claim it is for the betterment of photographers ensuring they are paid appropriate royalties and have control over their product. However, Kodak seems to have jumped on the blockchain bandwagon and Atari is one step behind them in the craze.
Many companies have successfully incorporated the blockchain into different forms of their business either internally or to transfer funds across the world. To learn how you can invest in stocks and ETFs that have successfully implemented the blockchain or invested in it, feel free to read this.
The implementation of the blockchain is reducing many companies costs while providing better security and transparency. The benefits of the blockchain are clear, but companies do not always use it for its intended purpose. Atari may have a viable blockchain based cryptocurrency concept, but it is more likely than not they are solely trying to piggyback on the blockchain craze. For a company that has struggled tremendously in recent years, and decades, it is clear they are likely attempting to build shareholder value even if the concept is not completely clear.
Atari at the Edge of Bankruptcy
Fred Chesnais is the Chief Executive Officer (CEO) of Atari Game Partners. At the beginning of February, he gave an interview highlighting how when the company's current leadership took over they were facing losses over $30 million for the year, with debts also in excess of $35 million. He was eager to point out that from that point his team has been able to reduce debt to zero, while also turning Atari profitable. Pulling Atari from the cusp of bankruptcy years ago, make it clear that Atari is not in the same dire situation as Kodak. However, dire situation or not, Atari has been fairly irrelevant since their original system was launched fading into oblivion since. Atari does not have any major break-through products on the horizon which provided them the perfect opportunity to capitalize on their own ICO. If no name teams from Russia and China are able to raise millions of dollars for products in preliminary stages of development, why shouldn't Atari too? Well, it casts doubt over the entire blockchain technology and cryptocurrency markets each time a coin with little purpose is created.
Shares in Atari Game Partners climbed on the Paris exchange from under $0.40 in December to over $0.75 as of February 16, 2018. Individuals who purchased Atari shares before their blockchain announcement were able to attain 100 percent returns solely based on the speculation of Atari entering the blockchain technology space. Atari is purchasing a stake in a company that is building a blockchain-based digital entertainment platform. Included in their agreement is a clause ensuring a digital currency called the Atari Token is created. Atari is also expanding their online casino partnership with Pariplay Ltd. To allow gambling using digital currencies. It seems Atari may actually have a plan for their cryptocurrency and blockchain endeavor!
Atari's Comments and Press Releases
Atari has been relatively quiet besides for the few press releases regarding their plans to enter the blockchain and cryptocurrency arena. Their latest press release stated:
"Blockchain technology is poised to take a very important place in our environment and to transform, if not revolutionize, the current economic ecosystem, especially in the areas of the video game industry and online transactions. Given our technological strengths with the development studios and the global reputation of the Atari brand, we have the opportunity to position ourselves attractively in this sector. Our objective is to take strategic positions with a limited cash risk, in order to optimize the assets and the Atari brand."
The positive news is Atari clearly understands the importance blockchain technology has in the future business landscape. It seems they are trying to enter the blockchain arena with little upfront capital. They are intelligently building partnerships and releasing their own coin to raise funds, greatly reducing their risk of loss. However, that risk of loss is in turn transferred to the unsuspecting investor. It seems Atari is excited to begin their blockchain endeavors and intends to bankroll them through the issuance of their own coin.
Blockchain, The Future of Atari?
Atari has been pasting their logo across merchandise for years as an easy way to raise funds with little overhead. Recently, they have begun discussions to bring a replica Atari console back. Nintendo has had recent success in their launching of replica consoles, and Atari seems also to be attempting this strategy. The Ataribox concept is posed for launch sometime in 2018 as long as the nostalgia remains strong. Atari has also taken part in multiple crowdfunding campaigns working with Roller Coaster Tycoon and Nintendo. It seems Atari has found a way to specialize in crowdfunding, allowing them to raise money for upcoming projects without substantial overhead. An ICO is the blockchain's method for fundraising and given Atari's current business model seems like the next logical step. It seems regardless if the Atari Token will have any utility it is on the horizon. Given Atari's gambling partnerships and entertainment partnerships, the Atari Token may be a surprise winner from what had been considered a failing company.
To read the King's prior articles, to find out which ICOs he currently recommends, or to get in contact directly with the King, you can on Twitter (@JbtheCryptoKing) or Reddit (ICO updates and Daily Reports).