Binance DEX and Singapore Fiat-to-Crypto Exchange Coming this April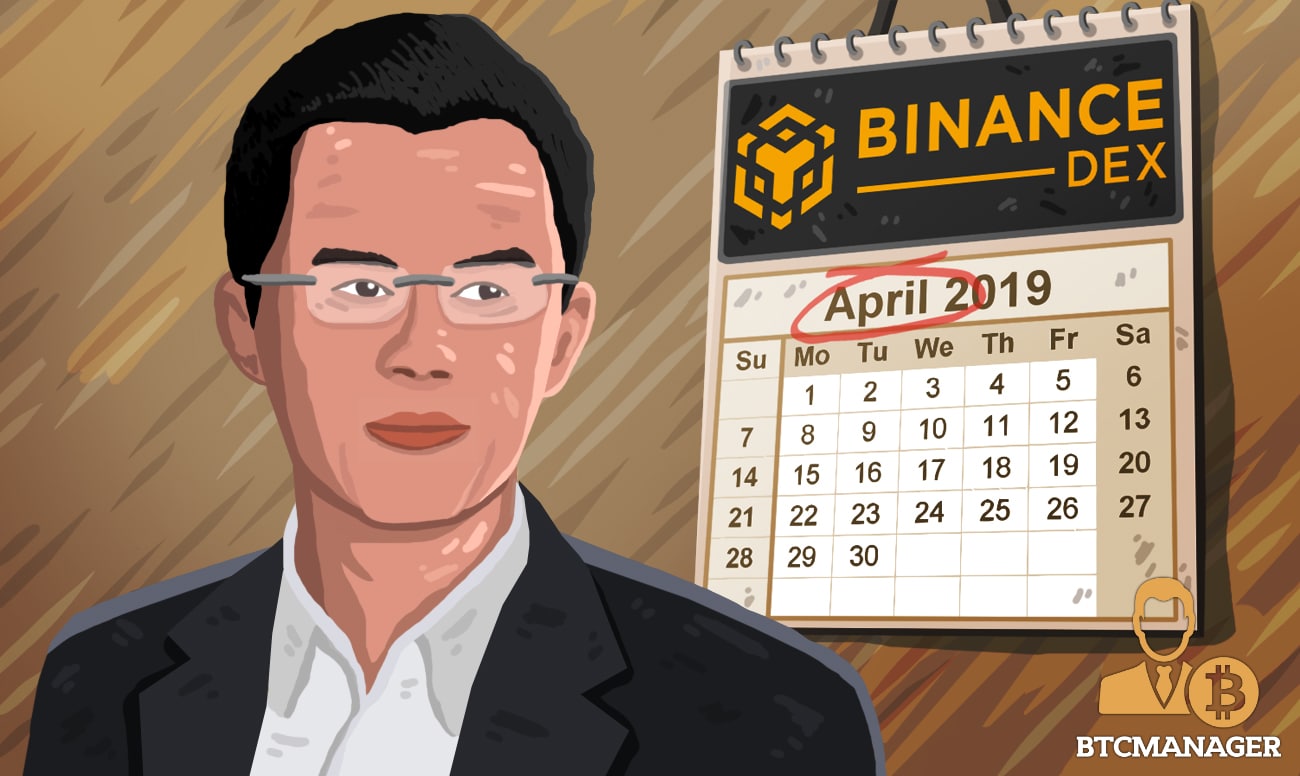 On April 4, 2019, cryptocurrency exchange Binance announced that its decentralized exchange (DEX) is set to go live this month. The Malta-based exchange also stated that its Singapore offshoot is poised to become operational in April 2019.
Binance DEX on the Cusp of Launch
Binance, the world's third-largest crypto exchange by 24-hour adjusted volume continues to stretch the boundaries of the emerging cryptocurrency industry.
Speaking at the Deconomy Conference in Seoul, South Korea, Binance CEO, Changpeng Zhao, said that the exchange's highly anticipated DEX would launch later this month. Zhao stated that Binance's in-house blockchain infrastructure would fully power Binance DEX.
"@Binance_DEX anticipated mainnet launch will happen this month" – @cz_binance #deconomy2019 #Binance

— Binance (@binance) April 4, 2019
As previously reported by BTCManager, Binance DEX was launched in testnet in February 2019. The decentralized trading platform which aims to revolutionize peer-to-peer trading will run on Binance Chain Technology.
Seeing the recent surge in cryptocurrency exchange hacks and other illicit activities of similar nature, Binance DEX provides a healthy alternative to people who are firm believers of decentralized ideologies.
Also, it's worthy of mention that Binance Coin (BNB), an ERC-20 token that runs through the veins of Binance exchange will be migrated to Binance Blockchain to function as the native cryptocurrency of the soon-to-be-launched DEX.
Binance Singapore Incoming
Zhao made another announcement at the two-day crypto conference, stating that Binance's next fiat-to-crypto exchange, Binance Singapore, will also go live in April 2019.
"#Binance Singapore will come online in April. It will be our next Fiat to Crypto exchange servicing $SGD " – @cz_binance #deconomy2019 #Binance

— Binance (@binance) April 4, 2019
As can be inferred from the above tweet, users of the exchange will be able to buy and sell cryptocurrencies with the Singapore dollar. The exchange is expected to encourage the local Singaporean populace to enter the world of cryptocurrencies without having to worry too much about its technical nitty-gritty.
BTCManager had reported on October 25, 2018, about Binance's intentions to launch a fiat-to-crypto exchange in Singapore after the company bagged investment from Vertex Ventures for the same.
In the wake of recent unfortunate incidents in the cryptoverse, Binance, on March 27, 2019, partnered with security firm IdentityMind to bolster its KYC and AML measures.
Further, in a bid to expand its business footprint in Australia, the exchange also launched its "Binance Lite" service which allows Australians to purchase bitcoin for cash from over 1,300 stores.