Bitcoin Smashes through $30K Barrier Amid Rising Institutional Interest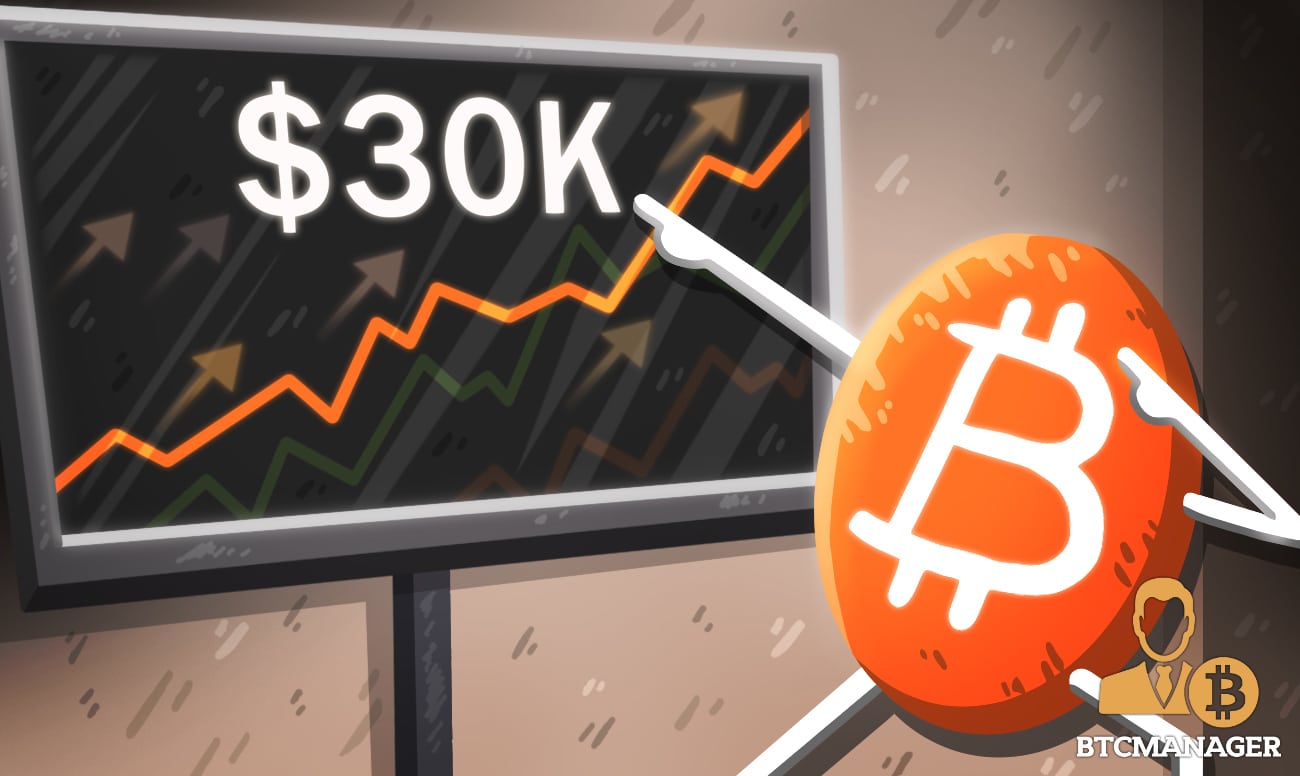 Bitcoin (BTC) smashed through the major psychological $30k barrier on Saturday.
Bitcoin Price Continues to Surge
In yet another major milestone for the premier cryptocurrency, bitcoin on Saturday broke through the $30K price for the first time, setting new all-time highs.
At press time, bitcoin trades at $30,781, up by almost 5% in the past 24-hour trading period. Similarly, bitcoin's market cap hit another all-time high of over $572 billion. In comparison, Ethereum, the second-largest cryptocurrency currently boasts of a market cap of $86 billion.
What's Pushing the Bitcoin Price Up?
While bitcoin continues to establish and break through new ATHs with every passing day, it is important to determine what exactly is pushing the biggest cryptocurrency to new heights.
Of note, it is not a single factor at work here.
Firstly, earlier this year, in May, bitcoin underwent its third halving which essentially created a supply-side shock for the orange coin.
Historically, the price of bitcoin and other related metrics, including hash-rate, level of buyers, and growth rate, have experienced a steep surge after every halving. Looking at the current price of bitcoin, it would not be far-fetched to consider the significant role of BTC halving in pushing its price so dramatically up.
Second, the increasing interest of institutional buyers in bitcoin.
2020, while being a year of a lot of global uncertainties, surely was one of the watershed years for BTC. Bitcoin not only came out unscathed from the coronavirus pandemic but also continues to create new ATHs, a testimony to the increasing amount of trust it enjoys in the eyes of institutional investors and alike.
This year alone, several companies started the practice of adding BTC to their balance sheets including the likes of MicroStrategy, Square, Guggenheim Partners, and others.
On a recent note, BTCManager reported that Anthony Scaramucci's SkyBridge Capital had become the latest company to join the BTC bandwagon with the firm putting aside over $180 million to invest in BTC.
In the same vein, BTCManager reported that Canadian publicly-listed company NexTech AR was planning to make an investment worth $2 million in BTC with plans to "add more in 2021."