Bitcoin, Ether, and XRP Weekly Market Update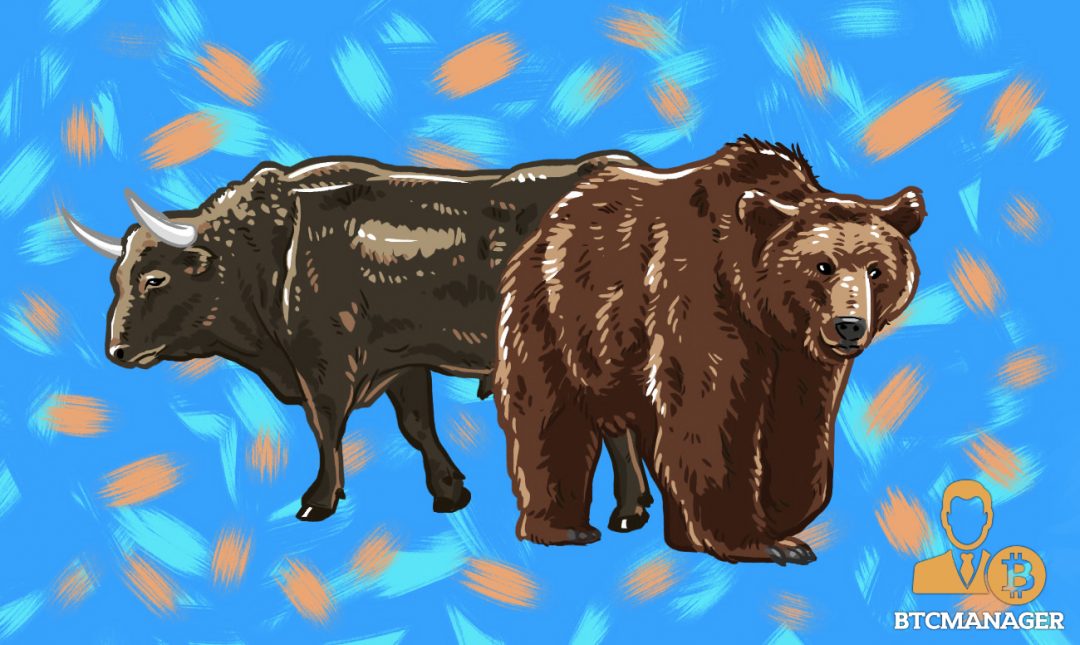 After a turbulent mid-week action, we saw BTC trading around the $6,400 level on September 7, 2018. The biggest cryptocurrency did, however, briefly achieve 55 percent of market dominance, its highest point since December 2017.
BTC-USD
The cryptocurrency market continued to demonstrate one of the steepest declines in the past three years. Even Goldman Sachs CFO Martin Chavez calling the report that the bank was ditching plans to launch a cryptocurrency trading desk "fake news," did not bring an end to the slaughter. Chavez said the bank was working on a bitcoin derivative known as a "non-deliverable forward," due to client demand.
Additionally, the U.S.-based crypto exchange and wallet service, Coinbase announced it is looking to create a cryptocurrency-based exchange-traded fund (ETF) with the help of the Wall Street investment management giant BlackRock.
BTC was stable during early trading hours on September 8 and prepared for yet another week in the so-called "mid-$6,000 corridor" ($6,200 to $6,600) when a sudden price drop occurred. Bitcoin lost almost $300 in value in less than two hours after dropping from $6,435 to $6,156.
The leading cryptocurrency made up for some of the losses and almost touched $6,500 in the early hours of September 9. Latest movements, however, only confirmed the overall downtrend.
The new week began with news from United States regulators. The U.S. Securities and Exchange Commission (SEC) announced it will temporarily prohibit trading for U.S. investors in the Bitcoin Tracker One and Ether Tracker One (listed on the NASDAQ/OMX exchange in Stockholm), a financial instrument known as Exchange Traded Notes (ETNs), which is very similar to ETFs (Exchange Traded Funds).
The commission pointed out the "lack of current, consistent and accurate information concerning Bitcoin Tracker One and Ether Tracker One" as the main reason for its intervention. On September 11, a federal judge ruled that U.S. securities laws may end up covering initial coin offering (ICO) fraud cases, handing the government a legal victory in a battle against an ICO company. According to the judge, the government can proceed with a lawsuit alleging that an initial coin offering is a security for purposes of federal criminal law.
The first round of good news came from the European Commission's Vice-President Valdis Dombrovskis who said at an informal meeting that after additional review of the crypto-assets, EU's finance ministers think "crypto-assets are here to stay."
He also noted that ICOs could emerge as a viable form of alternative financing, but there are still risks for investment protection due to lack of transparency and "risks of money laundering, potential fraud or hacking." The other challenge is the crypto assets categorization and classification. Dombrovskis added that the commission is working with European Supervisory Authorities on a regulatory mapping of crypto assets to answer the above questions.
The U.S. banking giant Citigroup is reportedly preparing to launch "Digital Asset Receipt" (DAR) for investing in cryptocurrencies. The bank will use this synthetic financial instrument to enable trading by proxy without direct ownership of the underlying coins, which will be held by a custodian instead.
BTC price, however, remained totally unaffected and it was trading mostly in the $6,200 to $6,400 range on September 10 with trading volume also staying relatively flat at $4.8 billion. The cryptocurrency market is still in the process of bottoming, so the series of good news had little to no effect on BTC movement.
On September 11, traders could not choose a direction, and we saw Bitcoin trading in the lower end of the mid-$6,000s.
Two new stablecoins launched this week with Gemini exchange (owned by the Winklevoss twins) announcing the "Gemini Dollar" (GUSD), a dollar-backed stablecoin, and Blockchain Trust company Paxos issuing the U.S.-dollar backed Paxos Standard. Both coins are built on the Ethereum blockchain and are regulated (and approved) by the New York State Department of Financial Services.
Additionally, reports showed that Bitcoin futures contracts have been seeing their trading volumes drop. On September 11, they hit a month low with only 1,965 contracts on the Chicago Mercantile Exchange (CME). Trading volume is down about 72.2 percent from one month ago.
The biggest cryptocurrency now stands at $6,387, 2.2 percent up since September 12, but still 5.6 percent down for the week.
Price targets remain the same – escape from the $6,200 to $6.600 corridor then $6,800 and $7,000. Looking downwards, our significant support is $6,000 with $5,800 as the next possible level to hold, although long-term deep decline below $6,000 is unlikely.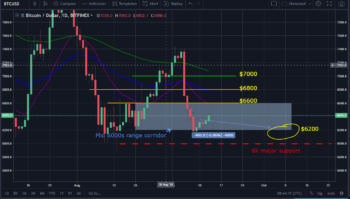 ETH-USD
Ethereum bulls were trying hard to defend the psychological level of $200 but were unable to push prices higher last week given the tremendous pressure the most popular altcoin was under.
For the 12H trading period between 17H00 CET on September 8 and 05H00 CET on September 9, ETH experienced a sharp decline and dropped from $216 to $187, breaching the $200 support line.
In a recent interview, Vitalik Buterin shared his opinion that "the blockchain space is getting to the point where there's a ceiling in sight," and "there isn't an opportunity for yet another 1,000-times growth in anything in the space anymore." A few days later he added that he meant there is no room for 1000x price increases and the crypto ecosystem still has a potential to grow.
To be clear, I never said that there is "no room for growth" in the crypto ecosystem. I said there is no room for *1000x price increases*. A 1000x price increase from today means $200T in crypto, or ~an entire 70% of today's global wealth being in crypto.

— vitalik.eth (@VitalikButerin) September 12, 2018
The most popular altcoin continued its decline on September 12 and reached $171, losing almost $30 of its value since the start of the week.
The widely recognized economist Nouriel Roubini stated that the decline in the value of Ethereum was expected due to its lack of active decentralized applications (dApps).
According to him 75 percent of Ethereum-built "DApps are crypto-kitties, scammy Ponzi pyramid schemes & Casino games. The other 25 percent are DEX that no one uses as 99% of transactions are on centralized exchanges. & 99%of crypto-currencies have already lost 99% of their value."
The ETH-USD pair showed some signs of life in the early hours of September 13 and is now up 11 percent since yesterday, standing at $188. Ether is down 18 percent for the week.
Break and hold below $190 to $195 would mean speculators are looking at $140 to $150 on the short-term. On the upside traders will need to hold $200, then push above September 2017 low of $220 (possibly even $217).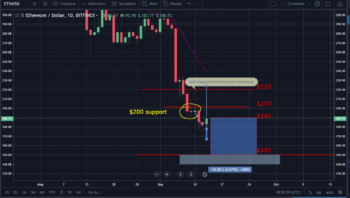 XRP-USD
XRP dropped from $0.30 to $0.287 in the early hours of September 7 before recovering to $0.294 later in the day. The sharp decline in the cryptomarket forced it back down to $0.271, right above the $0.27 support line.
The Ripple token started the week with a 7.3 percent drop on September 10 when it also breached the $0.27 support to find its bottom at $0.261. It lost another two percent on September 11 and touched $0.255 on the next day.
Since then, the third most valuable token is on its way to recovery and now sits at $0.271, 6.3 percent up since yesterday. The XRP-USD pair will likely hold the $0.27 support in the mid-term. If bears push it below that level, however, next stop will be the $0.21 to $0.20 support. Looking upwards, speculators see $0.30 as the primary target for XRP bulls.