CBOE Files Application with SEC for Bitcoin ETF License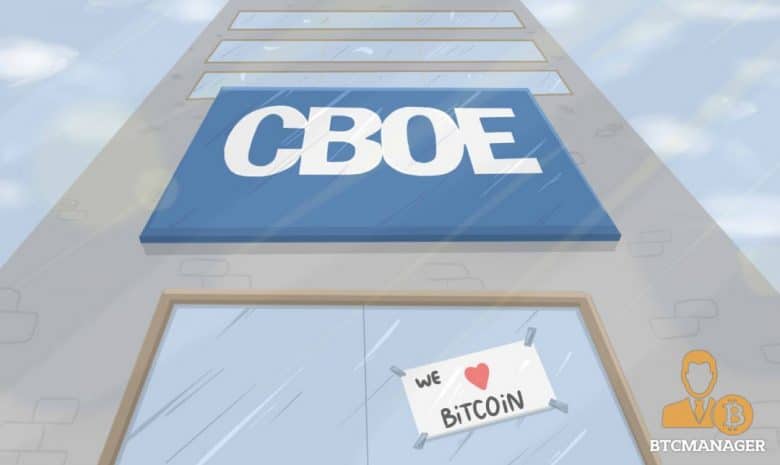 Chicago Board Options Exchange (CBOE) Global Markets, one of the world's largest futures exchanges, has filed for a bitcoin ETF (exchange-traded fund) with the United States Securities and Exchange Commission (SEC).
CBOE's future with bitcoin ETF looks promising
If the SEC approves the application, this would mean that the exchange could get a bitcoin ETF license, which would consequently give a boost the whole crypto world, given the CBOE's reputation as one of the most significant futures exchanges out there.
This boost would come from institutional investors who would be brought to the crypto world en masse if the SEC approved the license.
In June 2018, the SEC requested opinions from industry experts concerning the said ETF, being offered through the VanEck SolidX Bitcoin Trust. The VanEck SolidX Bitcoin Trust is a joint project of financial companies VanEck and SolidX.
CBOE's unsuccessful streak to turn for the better
This is not CBOE's first attempt at obtaining a license for bitcoin-related ETF.
In December 2017, CBOE started its bitcoin journey by becoming the first significant exchange for allowing bitcoin futures trading.
Soon after, CBOE has requested the SEC to list six bitcoin-related ETFs. These six ETFs were First Trust Bitcoin Strategy ETF, First Trust Inverse Bitcoin Strategy ETF, REX Bitcoin Strategy ETF, Rex Short Bitcoin Strategy ETF, GraniteShares Bitcoin ETF, and GraniteShares Short Bitcoin ETF.
CBOE filed these requests following the previous unsuccessful attempts of Cameron and Tyler Winklevoss, who failed to obtain SEC's approval of the COIN bitcoin ETF. Unlike Winklevosses' ETFs, CBOE's were optimized to track the performance of futures, not monitoring the crypto asset itself.
In March 2018, after that attempt was unsuccessful, CBOE president Chris Concannon made his bid. He wrote a letter to the SEC saying he believes that markets will support a bitcoin exchange-traded product (ETP). His attitude was that his company was operating on entirely legal terms and that they had no run-ins with the law at a time when lawmakers across the world are trying to define a regulatory framework covering cryptocurrencies.
SEC rejected CBOE's request, stating:
"Based on the record before it, the Commission believes that the significant markets for bitcoin are unregulated. Therefore, the Commission does not find the proposed rule change to be consistent with the Exchange Act."
In June 2018, things started to have a bit more positive outlook, as the regulator finally began the process of analyzing CBOE's request for the coveted bitcoin ETF license.