Cboe Suspends Bitcoin Futures Contract Amid Weak Trading Volume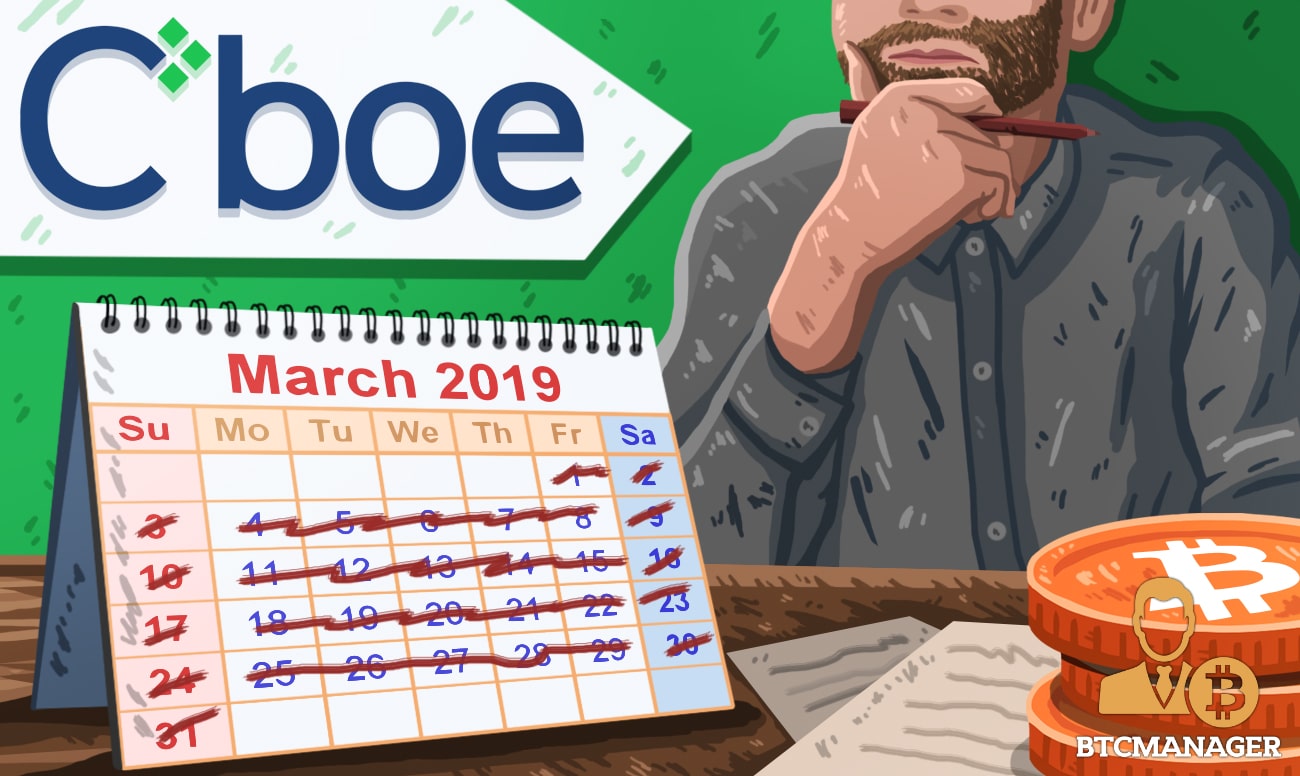 The Chicago Futures Exchange (CFE) has declared that its planned bitcoin futures market will not be added this month, as per a notice published March 14, 2019.
Prudent Approach
The announcement from the CFE arm of The Chicago Board Options Exchange (CBOE) explains why and how they came to this decision, indicating a future view for such an addition. The post writes:
"CFE is not adding a Cboe Bitcoin (USD) ("XBT") futures contract for trading in March 2019. CFE is assessing its approach with respect to how it plans to continue to offer digital asset derivatives for trading. While it considers its next steps, CFE does not currently intend to list additional XBT futures contracts for trading."
Though this form of bitcoin futures contract will be put on ice, the remaining listed contracts will be up and running until they expire in June 2019.
Anticipation
In December 2017, CBOE launched the futures contracts into a market that was at an all-time-high, and were thought to be a watershed moment in the adoption of cryptocurrencies within institutional investment circles, a sentiment which was soon seen to be holding true.
At this time, Ed Tilly, Chairman and Chief Executive Officer of Cboe Global Markets, said:
"Given the unprecedented interest in bitcoin, it's vital we provide clients the trading tools to help them express their views and hedge their exposure. We are committed to encouraging fairness and liquidity in the bitcoin market. To promote this, we  will initially offer XBT futures trading for free."  
Though as time went on, the writing may have been on the wall regarding this decision to suspend the Cboe XBT, as in the last quarter of 2018, the CBOE was considering launching Ether Futures by the end of that year, which didn't come to fruition.
Furthermore, in January of 2019, the CBOE withdrew a rule change pertaining to the hotly anticipated VanEck Bitcoin ETF during the government shut down.
The following graph from CNBC's ticker reveals the extent of the decline that XBT futures have been experiencing since the beginning of 2018.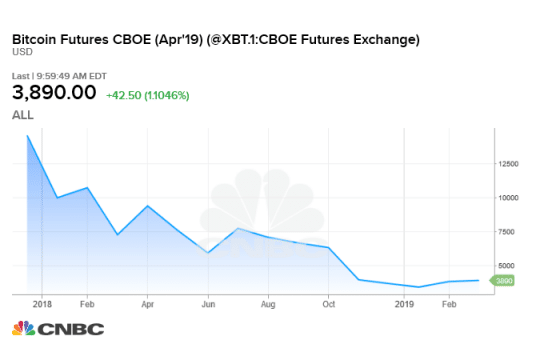 (Source: CNBC)
The followers of the industry, however, believe that riddance from Cboe bitcoin futures might help in the rise in price of the premier cryptocurrency.
This is because unlike Bakkt, which intends to offer physically-backed bitcoin futures, Cboe futures only provide investors exposure to the underlying asset without having to own any of it. This, in turn, leads to massive price speculation from investors' end.