Crypto.com Gains Provisional Approval to Open Crypto Exchange in Dubai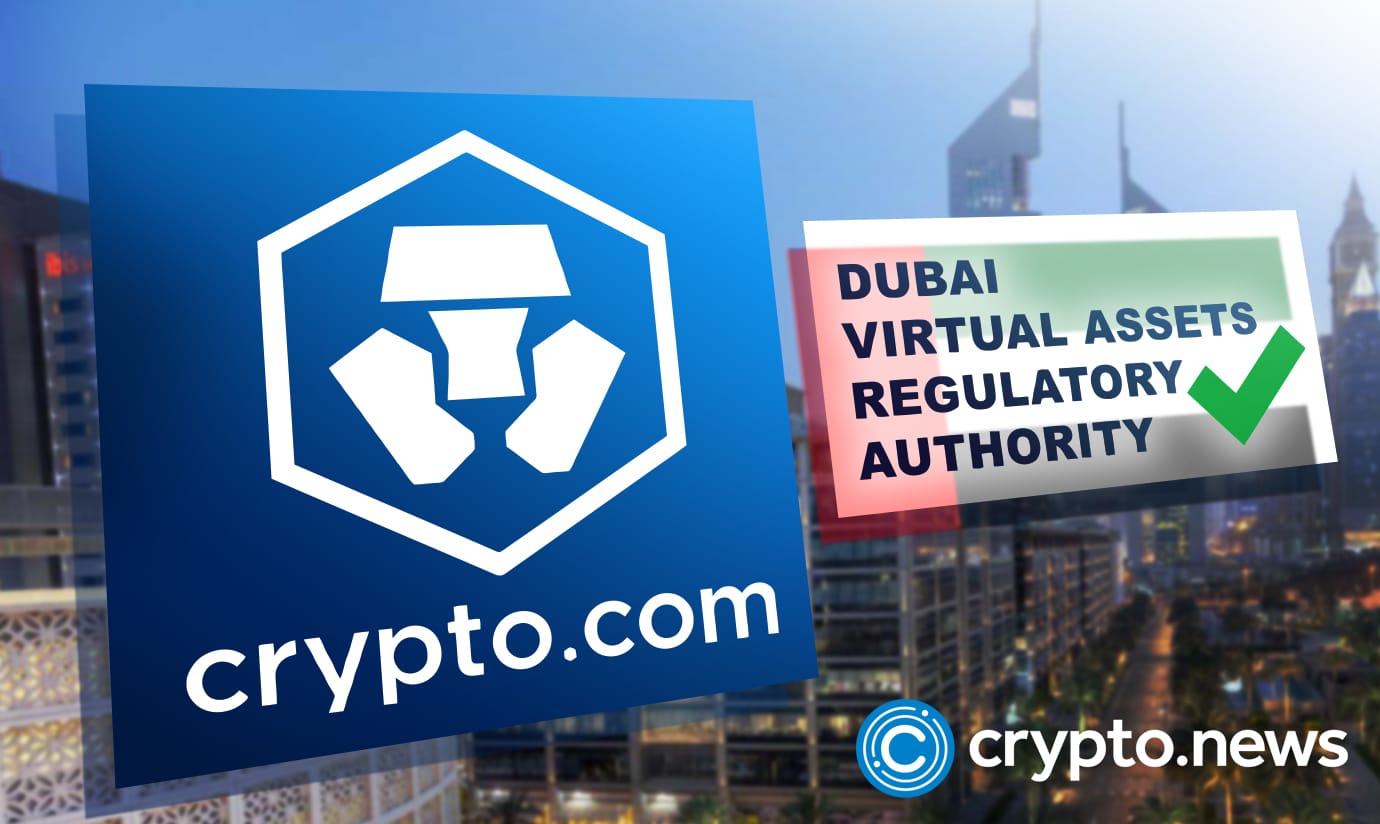 Crypto.com is on the verge of launching digital asset services in Dubai, joining the ranks of Binance, FTX, and Bybit.
Crypto.com Gets Green Light in Dubai
Crypto.com has received vital government approval to expand into Dubai, joining a long list of leading cryptocurrency exchanges that have been given the go-ahead to establish localized platforms in the region.
The Singapore-based exchange's Virtual Asset MVP License was initially granted provisional approval by the Dubai Virtual Assets Regulatory Authority (VARA).
In March, the government established VARA, which oversees crypto trading and new product issuances.
Just three weeks following VARA's launch, Crypto.com announced plans to open a regional office in Dubai. The company intends to eventually provide a full suite of crypto exchange products and services, including ones oriented toward institutional investors.
Dubai's Virtual Asset Regulator
Dubai passed its first law governing digital assets in February. It forbids anyone in Dubai from engaging in digital asset transactions without first obtaining permission from VARA, including establishing crypto exchanges and managing custodial services.
The regulation also requires crypto companies doing business in the region to incorporate in Dubai, which explains Crypto.com's recent plan to build a regional office.
All authorized crypto companies must follow Dubai's stringent market model of testing, adjusting, and scaling. Initially, only a limited range of exchange products and services are available to pre-qualified investors and professional financial service providers. The markets are then monitored by VARA before being opened to retail investors.
So far, no legal crypto exchange in the UAE allows crypto-to-dirham trading pairs, with Kraken expected to be the first to do so in the near future. Crypto.com has refused to comment on its inaugural cryptocurrency offerings.
Indeed, Crypto.com's operating license is conditional — that is, it will not be granted until it passes certain specified standards. VARA granted the company conditional approval based on documentation demonstrating Crypto.com's guarantee of compliance checks, subject to more due diligence.
"We are excited to provide more of our products and services in a market of great importance to our business and one that is equally committed to regulation and compliance," Crypto.com co-founder and CEO Kris Marszalek said in a statement.
Helal Saeed Almarri, director-general of the Dubai World Trade Centre Authority (DWTCA), which manages VARA, described Crypto.com as "one of the anchors partnering with VARA to develop a global, future-oriented regulatory framework."
Uae Pushes to Be a Global Crypto Hub
DWTCA launched a crypto hub in the Dubai World Trade Centre — a government-run exposition and events facility – in December of last year, which exchange Binance swiftly joined. The goal is to provide a controlled environment for crypto firms to establish themselves.
Several prominent crypto players have now been granted permission to provide services in the United Arab Emirates (UAE). Both FTX Europe and Binance secured VARA's Dubai-focused license in March, with the latter committing to relocate its headquarters to the region shortly thereafter.
In April, Singaporean crypto derivatives company Bybit received VARA clearance, joining Binance in shifting its headquarters to Dubai. Three Arrows Capital, a crypto hedge fund, is also relocating from Singapore to Dubai.
Kraken, established in San Francisco, chose to operate in Abu Dhabi, where it earned the emirate's first virtual asset exchange license.
In any case, the fact that Crypto.com has formally entered the mix (although without shifting its headquarters) demonstrates that the UAE is well on its way to becoming a global hub for digital assets – albeit one that is carefully regulated.