Kraken Report: Bitcoin Getting Increasingly Correlated with S&P 500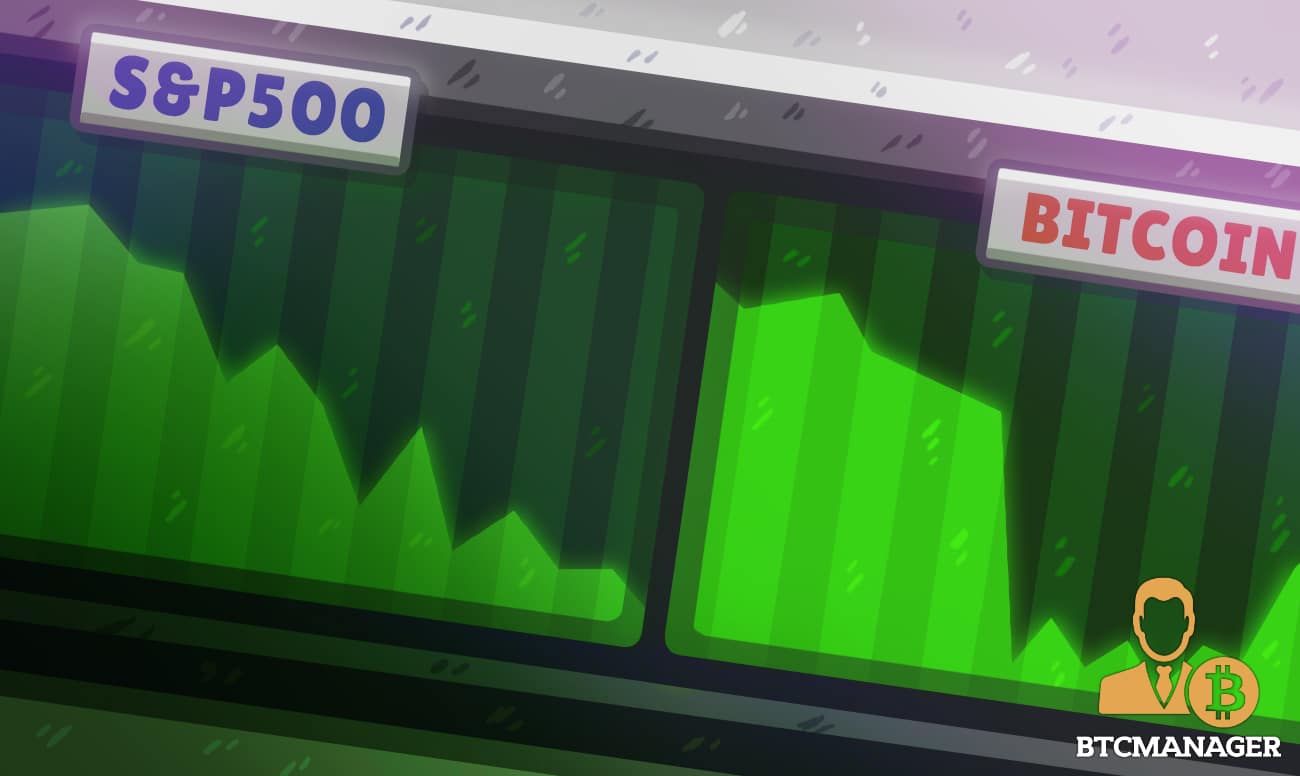 Kraken's June 2020 Bitcoin Volatility Report posits that bitcoin (BTC) annualized volatility crashed to a 6-month low of 51 percent and a reversal in the coin's bullish trend increased its correlation with the S&P 500 from 0.13 to 0.52.
Bitcoin Increasingly Correlating with SP 500 and Gold 
According to Kraken's June 2020 Bitcoin Volatility Report, despite attracting the interest of big players in the traditional financial ecosystem in June, including asset manager, Wilshere Phoenix which filed an application with the U.S. Securities and Exchange Commission (SEC) to enable it to offer bitcoin to its clients, last month marked the quietest month for the world's flagship cryptocurrency since last February.
The report shows that the lackluster market activity of bitcoin in June increased the digital asset's correlation with traditional investment vehicles like the S&P 500 (from 0.13 to 0.52), while its correlation with gold slightly decreased from 0.50 to 0.49.
The report also pointed out that the sudden change in bitcoin's correlation with both the S&P 500 and gold made the former behave more like a traditional risk-on financial asset and less like a safe-haven asset which bitcoin proponents tout it to be.
Largest Decline Since August, Bitcoin Price to Surge?
The report says bitcoin trading volume experienced a month-over-month (MoM) drop of -31 percent in June, yielding $36.6 billion in total volume traded, representing a 4-month low and the largest MoM decline since August 2019.
The report read:
"After topping out at 78 percent in the first week of June, annualized volatility descended to 51 percent as the month came to an end. Subdued volatility and trading volumes resulted in uninspiring, choppy price action between roughly $8,800 and $10,400. June's price action is the tightest trading range since December 2019."
Notably, despite bitcoin's poor performance in June, the report hints that some observers believe that the price of bitcoin (BTC) could rise significantly in the coming months since it has been hovering "beneath the resistance of a multi-year pennant formation for over two months," while also staying above its 50-week moving average.
However, the report has urged market participants to pay close attention to the CBOE Volatility Index (VIX) to enable them to better assess whether: "traditional financial markets will weigh on bitcoin's market dynamics as participants shift focus to equities."
At press time, the price of bitcoin (BTC) sits at $9,180, with a 24-hour reading volume of $17.85 billion, and a market cap of $169.18 billion, as seen on CoinMarketCap.