Pioneers from Ripple, Mastercard, and Telegram discuss crypto adoption at Blockchain Life 2023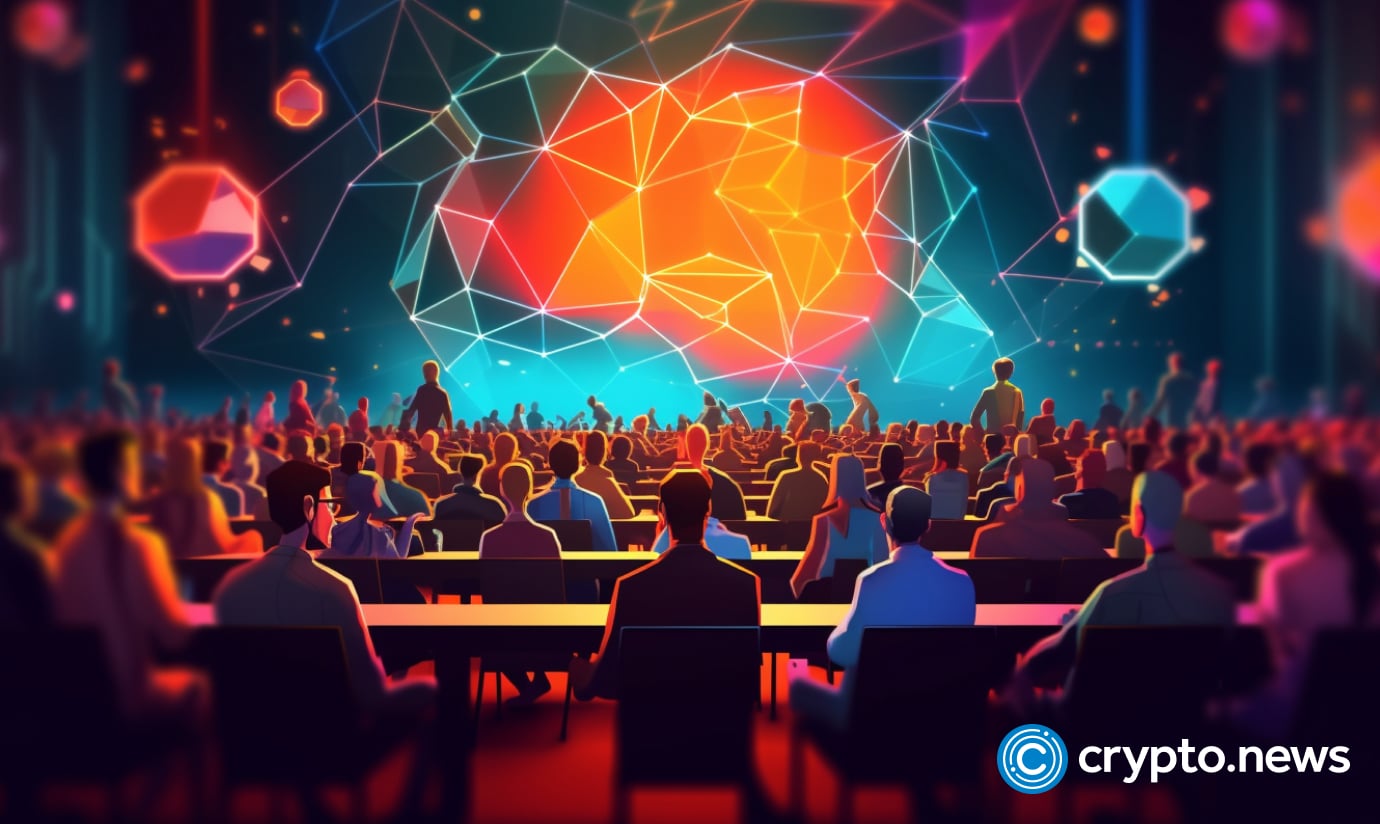 At the Blockchain Life conference in Dubai, leaders from Ripple, Mastercard, and Telegram delved into their crypto journeys, discussing challenges, user adoption, and the future of digital assets.
The "Digital Assets: Financial Sector Issues and the Next Wave of Adoption for Payments" panel occurred on Oct. 24 during the Blockchain Life conference in Dubai.
A diverse group of crypto and blockchain experts from Ripple (XRP), Mastercard, and Telegram shared their unique origin stories, shedding light on their journeys and current endeavors in the rapidly evolving world of digital assets.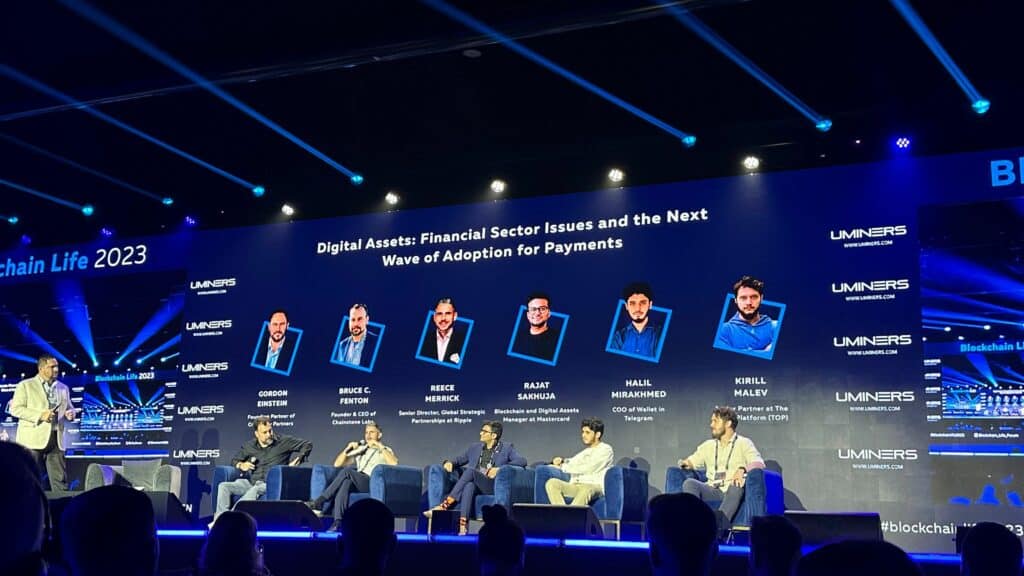 Chainstone Labs
Dr. Bruce C. Fenton, CEO of Chainstone Labs with a rich background in emerging markets and technologies, started the discussion. Raised in a brokerage firm environment, he has been a registered investment professional for over three decades.
His foresight led him to Dubai 21 years ago, as he recognized the potential of what was then a small town. Dr. Benson also shared his political aspirations, having run for the U.S. Senate, and his long-standing involvement in Bitcoin (BTC), emphasizing his commitment to identifying and investing in transformative technologies.
Ripple
Following Fenton, a senior director from Ripple, Reece Merrick, delved into his experience in the FX payment infrastructure sector, highlighting the inefficiencies and frustrations of cross-border settlements.
His journey led him to Ripple, where he now plays a pivotal role in leveraging crypto and digital assets to revolutionize how value is transferred globally, akin to the speed and efficiency of email communication.
Mastercard
Rajat Sakhuja, Mastercard's blockchain and digital assets manager, shared insights into the company's substantial investment in blockchain technology, aiming to bring the same level of trust and security found in traditional card transactions to the blockchain ecosystem.
Mastercard's comprehensive approach includes product development, partnerships, advisory services, and regulatory compliance, ensuring customer protection remains a top priority.
Telegram
Halil Mirakhmed, with eight years of crypto experience, introduced his innovative project: a wallet integrated within Telegram designed to bring crypto to hundreds of millions of new users. His focus on user adoption, particularly in emerging markets, highlights the potential for crypto to reach a broader audience.
Kirill Malev, a junior partner at The Open Platform (TOP), shared their collaborative efforts with Halil to drive mass crypto adoption through the open network blockchain and the TON ecosystem.
Blockers for crypto adoption
The panel also touched on the challenges and opportunities for crypto adoption, focusing on the legal landscape. Merrick (Ripple) acknowledged the regulatory hurdles faced, particularly in the U.S., while also highlighting positive developments and the company's proactive approach to operating in jurisdictions with clear regulatory frameworks.
Fenton (Chainstone Labs), perceived by some as a techno-libertarian, emphasized the detrimental impact of bureaucratic interference on adopting blockchain and cryptocurrency. He advocated for reducing centralized control, urging a system allowing markets to regulate themselves more efficiently. Bruce's perspective highlights a common sentiment in the crypto community, emphasizing the need for less governmental interference and more entrepreneurial freedom.
On the other hand, Sakhuja (Mastercard) provided a contrasting viewpoint. He underscored the importance of clear regulations and consumer protection, stating that these are crucial for adopting and integrating blockchain technology into mainstream financial systems. Mastercard's approach, as described by Sakhuja, involves working closely with regulators worldwide to ensure that their blockchain products adhere to local laws and regulations, ensuring customer safety and compliance.
Halil, from Telegram, shifted the focus to user education and the importance of creating user-friendly interfaces to encourage adoption. He discussed the company's efforts to integrate wallet services within the Telegram app, aiming to make crypto transactions as seamless as possible for users. This approach aligns with the broader industry goal of simplifying crypto transactions to foster greater adoption, especially in emerging markets.
Brill, from the Urban Platform, highlighted the efficiency and scalability of their blockchain ecosystem, emphasizing its potential to facilitate gas-free transactions. He also touched upon the legacy of the Gram token and the ongoing efforts to build upon it, showcasing the resilience and adaptability of the crypto community.
The panelists discussed the importance of user education and the adoption of secure practices in handling digital assets. They highlighted the different types of wallets available, such as custodial, self-custodial, and hardware wallets, each with its own benefits and risks. The panel emphasized the need for user training to ensure that individuals know how to securely manage their digital assets, highlighting potential pitfalls such as the loss of private keys.
The conversation then shifted to the challenges different generations face in adopting blockchain technology. The panelists acknowledged that there might be a generational gap in understanding and using digital assets, emphasizing the need for simplified user interfaces and educational resources to bridge this gap.
The role of identity in adopting digital assets was also discussed, focusing on establishing trust and ensuring secure transactions. The panelists explored the concept of digital identity and how it could be used to facilitate secure and trustworthy interactions within the blockchain ecosystem.
As the panel came to a close, the speakers shared their visions for the future of digital assets, expressing optimism about the potential for widespread adoption and the integration of blockchain technology into everyday life. They highlighted ongoing projects and initiatives aimed at making digital assets more accessible and user-friendly, ultimately contributing to the growth and maturation of the blockchain ecosystem.