Report: American Trading Platform E*Trade to Offer Crypto Trading Services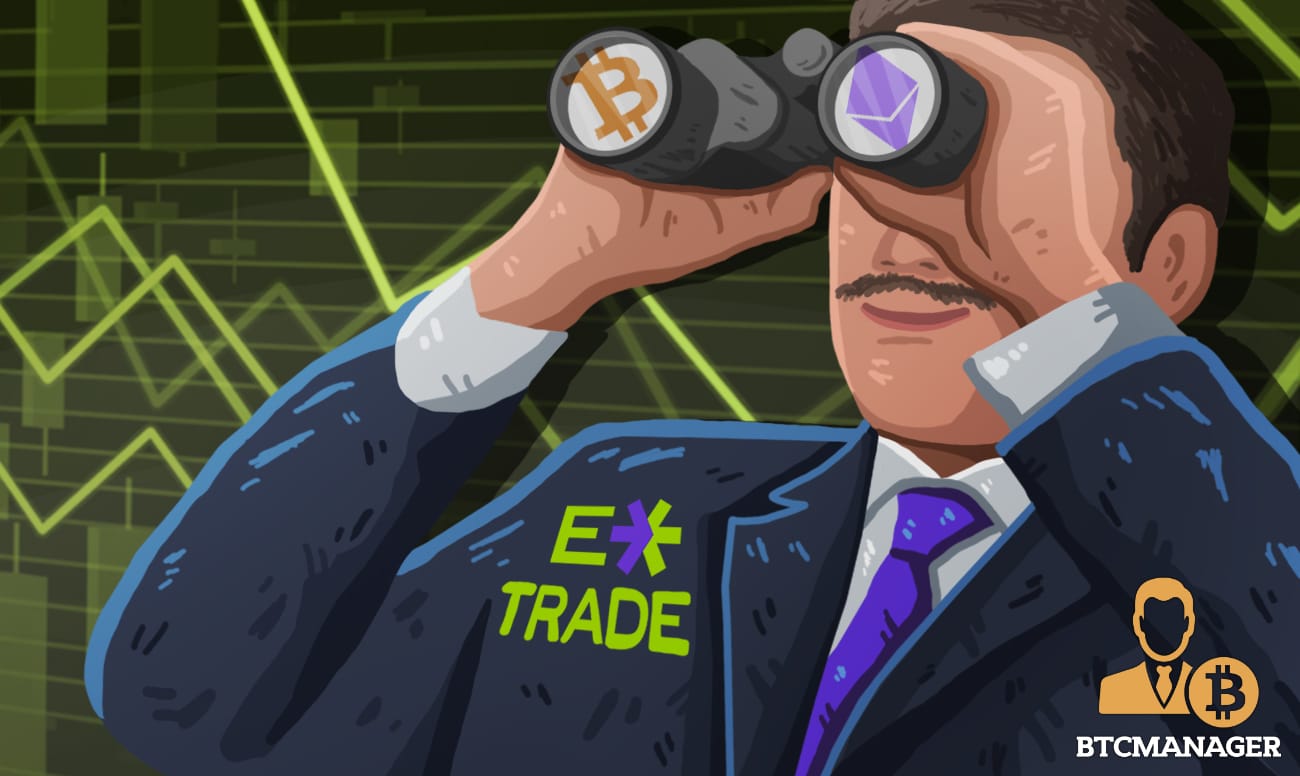 New York-based financial assets trading platform E*Trade is poised to offer cryptocurrency trading services, sources told Bloomberg, April 27, 2019.
E*Trade to Make Entry into Volatile Crypto Industry
Per sources in the know of the matter, E*Trade will begin its operations by offering bitcoin (BTC) and ether-based crypto (ETH) products. The corporate is expected to list other cryptocurrencies in the future.
If true, the entry of E*Trade could provide a significant impetus to the global cryptocurrency ecosystem and aid in its organic growth.
According to E*Trade's annual report filed with the U.S. financial watchdog the Securities and Exchange Commission (SEC) on December 31, 2018, the firm had a total of 4.9 million registered brokerage accounts and margin receivables balance of $9.6 million.
The firm also declared its assets which are worth more than $65 billion. With E*Trade entering the market, it is expected that competition in the nascent industry will heat up exponentially.
Large Corporate to Redevelop Failing Trust among Investors
Existing exchange giants in the cryptospace include the likes of U.S.-based exchange Coinbase and Malta's Binance – both with a valuation of over a billion dollars. However, in recent times, a number of other traditional financial institutions and companies have hinted at entering the Wild West that is the crypto sector.
For instance, Fintech startup Robinhood and Omaha-based electronic trading platform TD Ameritrade recently made public their plans to enter the digital currency space.
Robinhood, with a market valuation of approximately $5.6 billion has for long been vying to become one of the top cryptocurrency exchanges in the world. Most recently, the fintech startup applied for a national bank charter with the Office of Comptroller of the Currency in a bid to "offer traditional banking products and services."
Similarly, the foray of TD Ameritrade speaks volumes of the confidence the traditional financial institutions hold in the potential of digital currencies to reshape the world of finance for the better.
Just saw that TD Ameritrade is testing both BTC and LTC trading on its brokerage platform. 😲 🚀 pic.twitter.com/TVo39oECeH

— Charlie Lee Ⓜ️🕸️ (@SatoshiLite) April 23, 2019
These developments, along with the much-anticipated arrival of Bitcoin Futures trading platform Bakkt and Fidelity Investment's crypto trading desk will help develop confidence among investors who might have had doubts in the industry's legitimacy due to recent developments.
The inclination of these organizations towards cryptocurrencies also makes one wonder whether a crypto ETF is really all that important.
Matt Odell, co-founder of Lightning Network-based messaging app Final Message, Tweeted that with multiple reputed firms entering the industry, the need for a crypto ETF isn't all that necessary.
Fidelity, Square, Robinhood, TD Ameritrade, Bakkt and now ETrade…

We don't need an ETF. Most Americans will have easy access regardless. https://t.co/eLwLeVY58O

— ODELL (@ODELL) April 26, 2019