Samsung Mulling Developing Blockchain Network; Could Launch Samsung Coin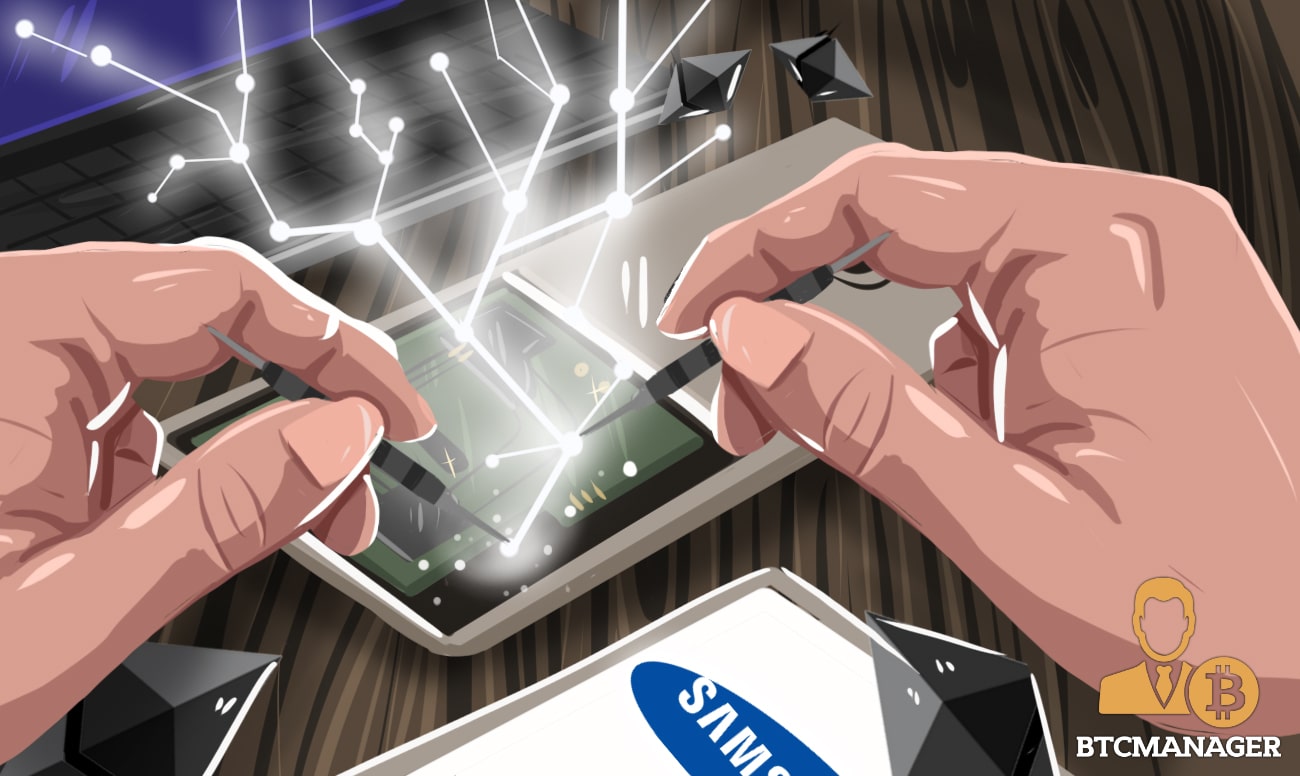 Leading tech company Samsung is said to be developing an Ethereum-based blockchain network with plans to issue its digital token down the line, Coindesk Korea reports April 23, 2019.
Samsung Coin Could Be a Reality
Citing a person "familiar with Samsung's internal situation," Coindesk Korea reported that the tech giant's blockchain task force is developing a blockchain mainnet based along the lines of the Ethereum network.
The source, however, added that the ambitious project is still pretty much in its "internal experimental" stage.
The source told Coindesk:
"Currently, we are thinking of private blockchain, though it is not yet confirmed. It could also be public blockchain in the future, but I think it will be hybrid – that is, a combination of public and private blockchains."
The report adds that once Samsung develops its blockchain mainnet, it might consider rolling out a "Samsung Coin" digital token. However, the utility of this token is still said to be amoebic at best.
The source confirmed this saying:
"The market expects Samsung Coin to come out, but the direction has not yet been decided."
This development comes two months after it came to light that Samsung's flagship Galaxy S10 smartphone would allow users to store cryptocurrency privacy keys and also introduce support for blockchain-based decentralized applications (dApps).
The unveiling finally put to rest rumors that had been running rife on the internet regarding Galaxy S10's speculated support for digital currencies.
Notably, Galaxy S10 also supports some of the most widely-used blockchain applications to date, including crypto collectibles platform CryptoKitties, and gaming platform Enjin.
Samsung's interest in blockchain technology is no secret. The South Korean company has filed several related patents to date and consistently ranks among the companies with the highest number of blockchain-related patents.
The firm's information technology arm, Samsung SDS recently announced the launch of its Nexledger Accelerator, a blockchain solution that it claims can significantly boost transactions speed on blockchain networks.
Corporate Coins Raise Questions
Lately, the trend of launching native digital currencies seems to have picked up steam.
BTCManager reported on February 14, 2019, how U.S.-based banking giant JP Morgan announced its plans to launch a dollar-pegged stablecoin JPMCoin. Similarly, the blue and white social media giant Facebook's iteration of a digital token is also said to be due within the next six months.
However, this flood of corporate-backed digital tokens has raised concerns among the orthodox cypherpunks who are typically apprehensive of anything that has to do with giant conglomerates.