Satis Group Analysts: 81 Percent of ICO's Are Scams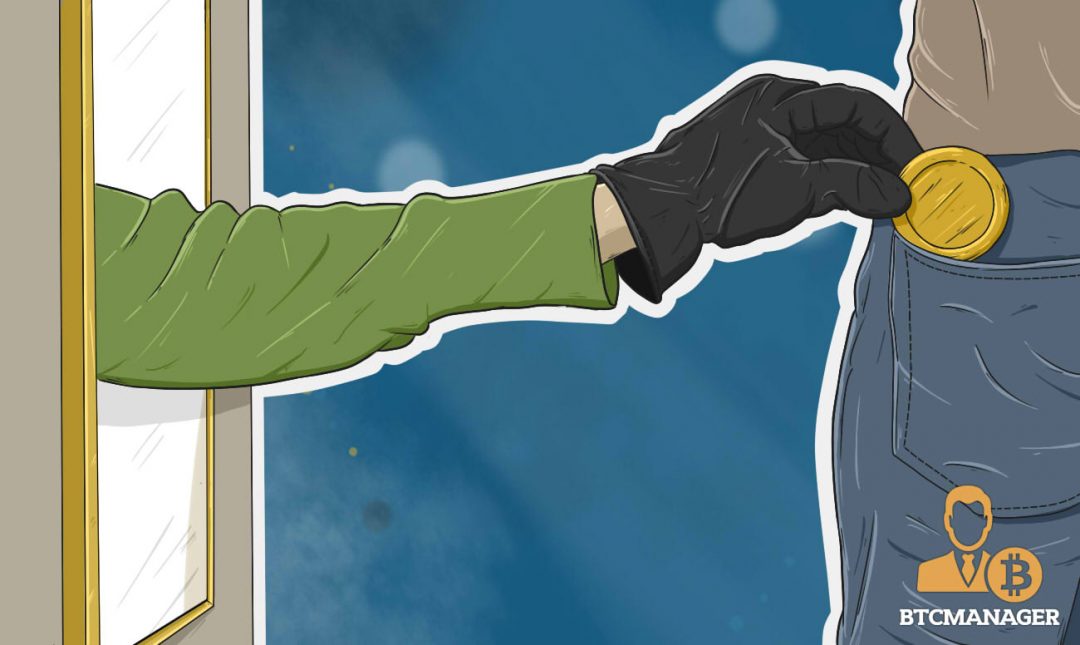 Satis Group, the premier ICO Advisory Group, have classified Initial Coin Offerings (ICOs) by their quality to provide a clear picture of ICOs actual progress. Satis Group's findings are shocking but is a bitter truth cryptocurrency space participants must swallow. According to their report, almost 81 percent ICOs are scams, at the same time, only 1.6 percent of them are promising.  
Over the time, the ICO industry has been labeled as one of the riskiest investments due to scams surrounding the space. Governments around the world have been warning people to stay away from these form of investments. In September 2017, China banned ICOs prompting other countries to consider a similar stance, including South Korea.
The Satis Group classifies ICOs starting from the first proposal of fundraising to it being listed on the cryptocurrency exchange platform. Before we get to the results, it is important to understand how the ICO's have been classified.
ICO Classification Groups
Scams
The ICO projects that aggressively promote through social media platforms and pressure people to buy immediately signals a scam. Although nothing can match up to due diligence, there are several common red flags to look for when investing into an ICO to steer clear from scams.
Common red flags include; offering high returns and low risk, a fully-anonymous team and insufficient information of the project on the whitepaper. Recently, the Steven Seagal-fronted project "Bitcoiin" was deemed as a scam by New Jersey and Tennessee state securities regulators.
Failed
The projects that fall under this group are those that have managed to raise funds but abandoned the ICO. These are only slightly different to scams as these projects do refund investors if the project does not meet the required soft cap.
Gone Dead
These projects are exactly in between the projects that gain success and the ones that fail. Gone Dead ICO's manage to raise funds and complete every process but does not get listed on exchanges. Also, these ICO's do not have code contribution in GitHub, for the period of the next three consecutive months.   
Dwindling
Dwindling projects are those that have succeeded in raising funds, completed the process and was listed on the exchange. The dwindling projects are those that fulfill one of the success criteria listed below:
Deployment of a chain/distributed ledger or product/platform,
Clear and transparent roadmap on website,
GitHub code contribution in a rolling three-month period.
Promising
Promising ICO's are those who meet two of the above success criteria.
Successful
The successful projects are those that meet all the above success criteria.
Findings of the Analysis of the ICO Market
According to Sherwin Dowlat, an analyst at Satis Group, the results of the findings are not promising at all. Dowlat concluded after analyzing the ICO space from various sources such as CoinMarketCap and ICO rating websites. Below are the shocking results for ICO projects with a valuation of $50 million+:
81 percent are outed as scams,
Six percent fail before launch,
Five percent go dead before launch,
4.4 percent of those examined are dwindling on exchanges,
1.9 percent have been successful,
1.8 percent are looking promising.
Of the eight percent that went on to trading, almost half are successful, 2.8 percent are 'dwindling,' and 1.6 percent are 'promising.'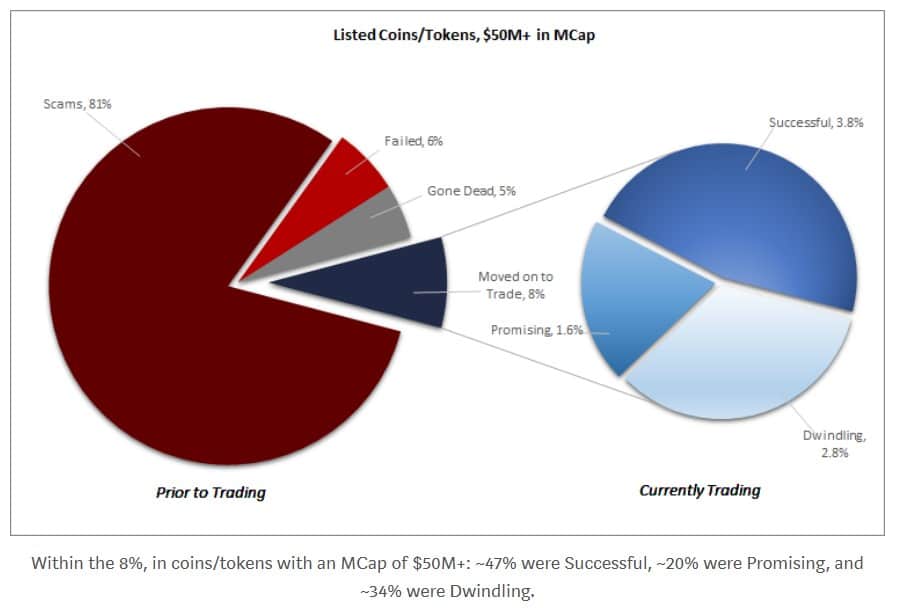 Source: Medium
The analyst at the end of the report states, "Our data is approximate, based on sources listed above, and subject to changes in the posted data and misinterpretation of the data by those sources."
The results produced by the Satis Group analysts are shocking, that highlights that more than three-quarters of the ICOs are fraud. As an investor, it is essential to know the market well before investing in any projects. Scammers can easily manipulate their projects to meet the success criteria.
Also, look for project partners if any notable company backs the project or not, which would be one way to reduce risk. However, it is not enough of a stringent condition to point the legitimacy of the ICO, as many partnerships have been alluded to in the past, when they were not genuine.
Read BTCManager's guide on picking ICOs <i>here</i>.