SEC Delays Decision on Bitwise and VanEck/SolidX Bitcoin ETF Application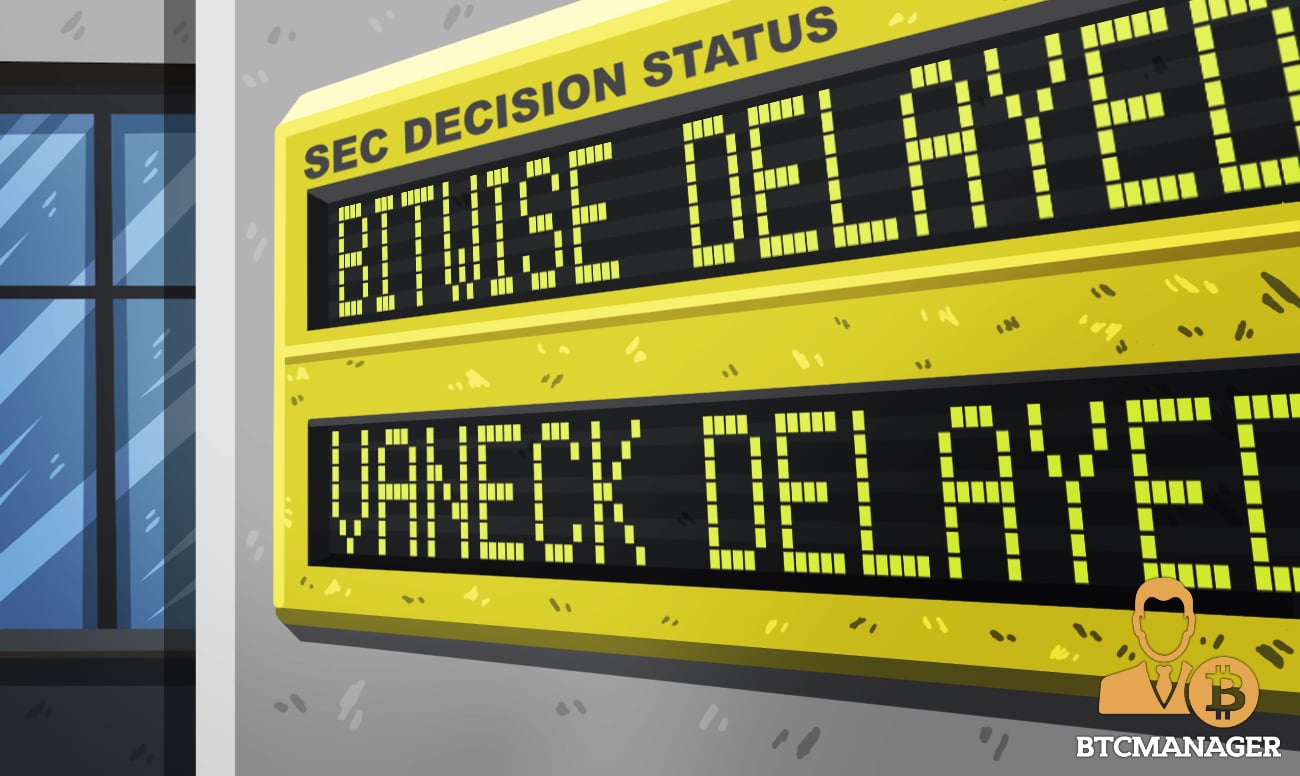 The United States Securities and Exchange Commission (SEC) has released a handful of notices announcing the postponement of its decision on both the Bitwise and VanEck/SolidX Bitcoin (BTC) exchange-traded fund (ETF) applications.
Bitwise Bitcoin ETF Postponed
In the first of two quick-fire notices published on March 29, 2019, the SEC announced its decision to delay the approval or rejection of the Bitwise Bitcoin ETF application. As previously reported by BTCManager, Bitwise Asset Management, a U.S.-based cryptocurrency index fund platform, had applied for a physically held Bitcoin ETF back in January 2019.
In mid-February, Bitwise submitted a proposed rule change to the SEC as part of its application. According to the notice, the SEC received 21 comments on the proposed rule change. With the announcement, the SEC now has a 45-day review period which it can extend to 90 days. The first 45-day deadline comes up on May 16, 2019.
The SEC also issued another public notice on Friday announcing the decision to delay the VanEck/SolidX bitcoin ETF by a further 45 days. Cboe had previously withdrawn the VanEck/SolidX application back in January 2019 before refiling a few days later. The 45-day deadline for the Cboe application comes up on May 21, 2019.
Same Old, Same Old
The SEC's decision will come as no surprise to cryptocurrency enthusiasts as the Commission has remained consistent in its reticence concerning the approval of a Bitcoin ETF. The delay and reject song-and-dance is one that the Commission has repeatedly rolled out when considering such financial products.
Going by the well-established history of BTC ETF rejections, come May 2019, the Commission will elect to postpone its decision again by another 45 days. Once the 90 days are over, a decision will still most likely not be made and the process will drag on for the full 240-day approval lifespan until the inevitable "no" verdict is given.
Despite the clamor for an SEC-approved Bitcoin ETF, the Commission continues to point to claims of market manipulation, liquidity issue, among others as reasons for rejecting each application. As part of its proposed rule change, Bitwise revealed that wash trading accounts for 95 percent of daily BTC trading volume.
While the SEC might point to such a report as a justification for its concerns, it is important to note that wash trading has little impact on BTC price discovery. These inflated trading figures come from obscure exchanges with low trading activity.
Recently, SEC Commissioner, Hester Peirce urged the regulator to do better in terms of innovation and keeping pace with the industry.