Winklevoss Twins' Crypto Trading Platform Gemini to Add Bitcoin Cash and Litecoin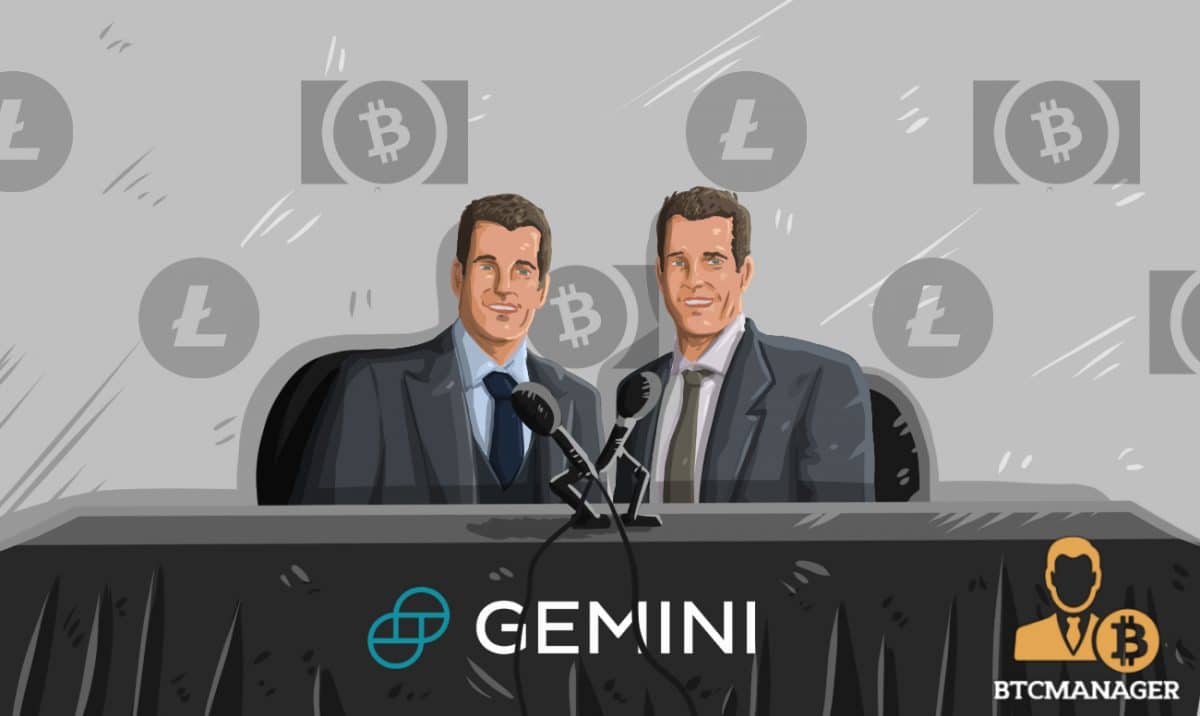 Tyler and Cameron Winklevoss have confirmed that they are planning on adding more tokens to their cryptocurrency trading platform Gemini Exchange. The billionaire twins shed light on this expansion plan at an event hosted by Chicago-based Cboe Global Markets Inc.
Expansion of the Satoshi Family Tree
Currently, Gemini's trading platform supports only two digital assets: Bitcoin and ethereum.
The announcement holds significance for Cboe too because it will introduce additional options at their disposal. Naturally, the Chicago company looks to offer futures contracts on digital currencies other than just bitcoin.
Cboe and Gemini are locked in a strategic partnership, which is why the futures exchange adds new coins following the Winklevoss's exchange. As such, the arrangement between the companies makes Cboe dependent on Gemini's pricing data for bitcoin contracts.
The 34th Annual @CBOE Risk Management Conference with Cameron @winklevoss and @tylerwinklevoss discussing "Digital Assets and the Future of Finance" #CboeRMC https://t.co/ScGRYpTKWj

— Gemini (@Gemini) March 8, 2018
Gemini would begin the expansion by adding members of "the Satoshi-Family tree": Litecoin and bitcoin cash to its portfolio.
The move will place Gemini in a much better position to counter archrival Coinbase Inc., the U.S.-based exchange that currently supports bitcoin, ethereum, litecoin, and bitcoin cash.
Moreover, if history has taught us anything, the inclusion of litecoin and bitcoin cash to Gemini's portfolio could also cause a spike in the prices of both these coins. At least, that's how the market reacted when they were added to Coinbase.
Winklevoss Twins Praise the SEC's Outlook on Digital Coins
The co-founders of Gemini also welcomed the U.S. Securities and Exchange Commission's (SEC) official stand on virtual currency trading which states explicitly that crypto exchanges must register as a national exchange with the regulatory agency.
The SEC's position on the matter has been hailed by many as a critical move toward protecting investors from fraudulent activities.
Gemini itself is licensed under and regulated by the New York State Department of Financial Services (NYSDFS).
Tyler and Cameron Winklevoss also said that institutional investors are increasingly drawn towards the crypto space, and their engagement with the emerging digital economy is probably higher today than ever.
This changing trend, in their opinion, reflects the growing demand and popularity of cryptocurrencies.
The @winklevoss twins have announced that Gemini Exchange will look to add more tokens, like Bitcoin Cash and Litecoin, in 2018.

Increased market participation is a good sign.

— Pomp 🌪 (@APompliano) March 8, 2018
They also predict that 2018 is going to be the year when institutions and Wall Street shrug off their skepticism and join the party more proactively.
Among the twin's other forecasts surrounding the crypto economy is last month's bold claim that bitcoin price could grow by as much as 40-times its then-contemporary value. If that prediction indeed comes true, one would be valued at approximately $350,000.