Bank of America: Bitcoin Bubble Is Bursting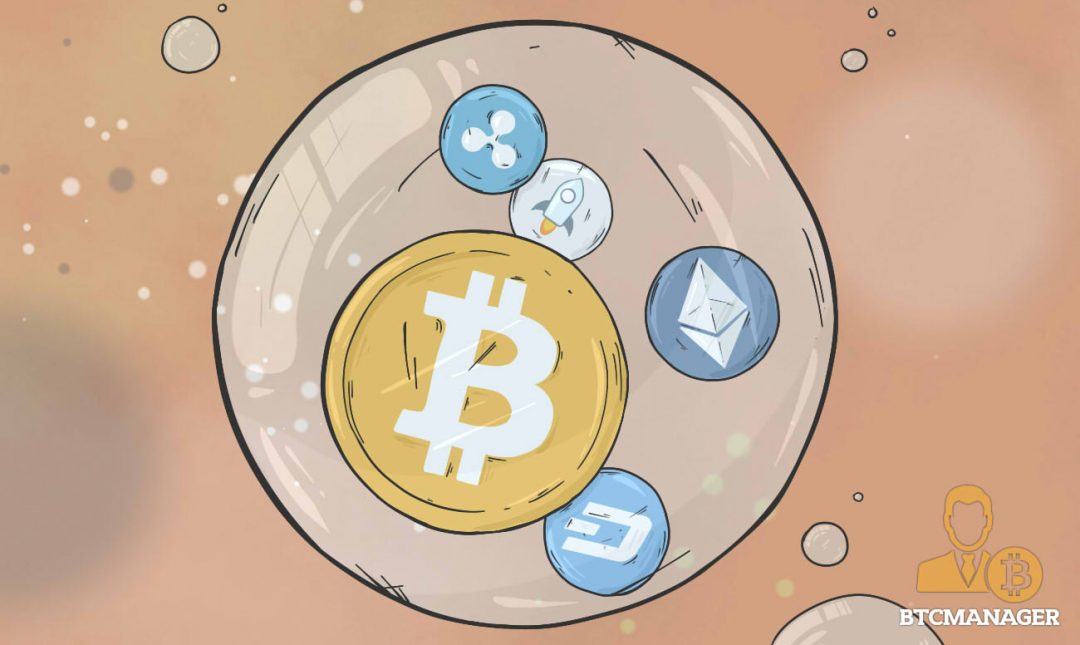 Several top investment pros are once again declaring the death of bitcoin amid its recent price plunges. In fact, one Bank of America analyst called the pioneer cryptocurrency the "greatest bubble in history," and said it's popping right now. Bitcoin evangelists, who have been around since the beginning, have heard all this before.
Analysts: Bitcoin Has Peaked
Michael Hartnett, the chief investment strategist at Bank of America, warned investors in a somber April 8, 2018, note that bitcoin's recent erratic price fluctuations mirror those of other financial bubbles, including the 1929 stock market crash, the 17th century Tulip mania debacle, and the 18th century South Sea bubble.
In all those instances, the respective markets experienced a massive surge before crashing and petering out. BofA's Hartnett said bitcoin's wild recent price swings look eerily similar to those other bubbles before they burst, and used a chart to buttress his claims.
#Bitcoin trades below $7k as BofAML calls cryptos a #bubble. pic.twitter.com/ZQLRDnLVgO

— Holger Zschaepitz (@Schuldensuehner) April 9, 2018
Analysts at Barclays have also pronounced the bitcoin bubble has popped, Bloomberg reported. They said the only reason why bitcoin prices skyrocketed in the first place is because of intense word-of-mouth buzz that has since peaked. Barclays managing director Joseph Abate noted:
"We believe the speculative froth phase of cryptocurrency investment — and perhaps peak prices — may have passed."
Since soaring to about $19,000 in December 2017, bitcoin prices have consistently nosedived below $7,000 for the past two weeks amid a barrage of negative news, including heightened regulatory scrutiny in South Korea, Russia, Poland, China, India, and Japan.
Regulatory Crackdowns Had Chilling Effect
In the United States, the Securities and Exchange Commission (SEC) has been cracking down on sham initial coin offerings (ICOs), and the Internal Revenue Service (IRS) has warned bitcoin investors that they must pay taxes on their capital gains.
Adding to the tsunami of bad press are new cryptocurrency ad bans by Twitter and Google. Social-media giant Facebook had banned crypto ads back in January 2018.
Despite the avalanche of bearish developments, SEC chairman Jay Clayton said regulation would actually be good for the unregulated, opaque virtual currency market. Clayton reasoned that stamping out fraudsters will ultimately benefit the nascent industry by ridding it of unethical scam artists who give the entire space a bad name.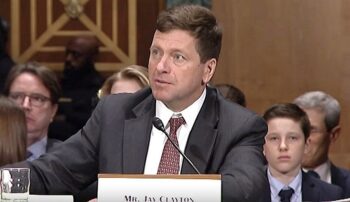 (Source: Youtube)
"If we don't stop the fraudsters, there is a serious risk that the regulatory pendulum – the regulatory actions – will be so severe that they will restrict the capacity of this new security," Clayton said during a speech at Princeton University on April 5, 2018.
Cboe to SEC: Give Bitcoin a Chance
Despite its harsh talk, the SEC quietly signaled its confidence in the crypto market by revealing it is considering two bitcoin exchange-traded funds — the ProShares Bitcoin ETF and the ProShares Short Bitcoin ETF — for listing on the NYSE Arca, the first all-electronic exchange in the U.S.
The move came shortly after Cboe president Chris Concannon practically begged the SEC to allow crypto ETFs. Concannon said the market for virtual currencies is only getting bigger, and it continues to generate soaring investor and consumer interest.
"Because of its innovative features as a digital asset, bitcoin has gained wide acceptance as a secure means of exchange in the commercial marketplace and has generated significant interest among investors," Concannon wrote in a March 23, 2018, letter to the SEC.
But don't take Chris Concannon's word for it. Listen to those who have skin in the game, like Mike Novogratz, a former partner at Goldman Sachs who left Wall Street to launch the crypto merchant bank Galaxy Digital.
Same with Dave Chapman, who left HSBC and Bear Stearns to roll out ANX Pro, a Hong Kong-based cryptocurrency exchange.
'Crypto Is the Future'
Despite some bearish sentiment on Wall Street, some pretty smart people are betting big on bitcoin.
Billionaire Changpeng Zhao, a former computer coder who founded top crypto exchange Binance, does not doubt that digital currencies are here to stay. "I'm convinced 100 percent that crypto is the future," Zhao said.
"I just know it will happen."
The Winklevoss twins, Tyler and Cameron, agree. They predict that bitcoin will one day become a "multitrillion-dollar asset," and that skeptics suffer from a "failure of the imagination." In 2003, as students at Harvard University, the brothers set out to launch an obscure platform that's known today as Facebook.
Changpeng Zhao and the Winklevoss twins know a little something about visionary investing and making money. Forbes recently released its first-ever list of crypto billionaires.
Zhao came in at number three, with an estimated net worth topping 1.1 billion. As for Tyler and Cameron, they slid into the number 4 spot, with a combined net worth hovering at $900 million.