Binance vs. Coinbase: Which Is Better to Trade and Grow Crypto Holdings On?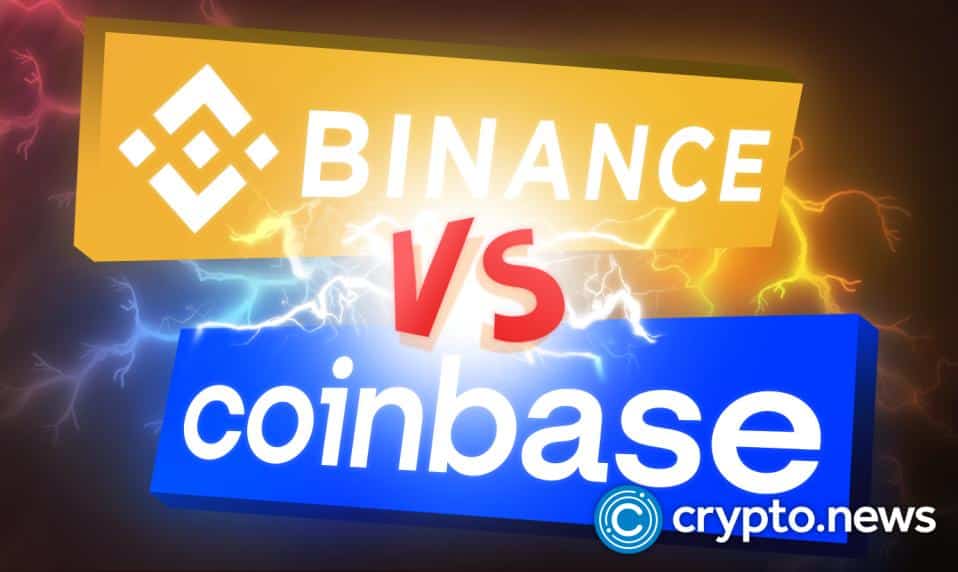 Binance is the largest crypto exchange in terms of daily transaction volume. Currently, the exchange claims to handle over $75B daily. Coinbase is another well-known crypto trading platform. Both of these platforms are centralized exchanges and have different features, some of which are similar. Here is what you need to know about them.
Crypto Exchanges 101
Though most people who know about crypto exchanges know that certain platforms are necessary for their thriving, newbies may not know how it all goes down. Cryptocurrencies are traded like digital assets meaning that for one to acquire them, they exchange their physical items, mostly fiat money.
There are different methods of trading cryptos; one of the most effective ones is using crypto exchanges. These platforms act as intermediaries to help market makers (those who place sell orders) and market takers (those who place buy orders) to satisfy their trading needs. They have different protocols to facilitate the trades. Some may use order books (ledgers that record every trader's desired sell and buy orders) or automated market makers.
They can also have protocols to facilitate secure transactions like peer-to-peer transactions (P2P) systems. There are different types of crypto exchanges. There are centralized exchanges (CEXs), decentralized exchanges (DEXs), and hybrid exchanges (HEXs). All of them differ according to their operational structure, which includes governance and the rights of their users.
Centralized exchanges are governed by central bodies and have little or no room for users during the decision-making process. On the other hand, decentralized exchanges are governed by their users through decentralized systems like voting. They have tokens that give their users voting rights.
Both of these types of exchanges are good for users but have very significant pros and cons. Due to that reason, there exists another type of exchange, the hybrid exchanges; these exchanges are hybrids of both CEXs and DEXs. They are optimized to tap into the advantages of both CEXs and DEXs while capitalizing on their shortcomings.
Binance and Coinbase are both CEXs and are popular in the crypto space. Their popularity makes many wonder which one to use between them. Are you one of those wondering about the advantages of using either Binance or Coinbase over the other? Worry no more; read on to learn how these crypto trading leaders fair against each other.
Company Overview
Binance is one of the crypto platforms that came when the crypto space was already on its feet. It was launched in 2017 by a Chinese engineer Changepeng Zhao (CZ) in HongKong. However, it was relocated to Malta due to regulatory uncertainties. It has risen through time to be the most sought-after crypto exchange.
According to its records, the exchange is now the most utilized one in the world, boasting a daily transaction volume of over $75B. It is also among the ones that capitalize most on being regulatory compliant. At the moment, it has been licensed in different countries, including France.
Coinbase is one of the most popular crypto exchanges due to its early market entry. Unlike the new exchanges like Binance, Coinbase was launched in 2012. At the time, not many people were conversant with the word cryptocurrency, and Bitcoin was still a riddle to even the best regulators.
The exchange was launched by Brian Armstrong (Current CEO) and Fred Ehrasam. However, unlike most of its competitors, Coinbase lacks headquarters. The exchange has grown from being launched through funding of $150K by the Y Combinator Startup Incubator program to turning profits of over $300B per quarter.
It supports over 13K financial institutions in over 100 countries. Such performance shows that the platform has a great team behind it and may only continue enlarging with time. Below is a summary of how Binance and Coinbase compare regarding their key features.
Binance vs. Coinbase Summary
Below is how the two exchanges fair in a tabulated format:
Feature/ Service
Binance
Coinbase
Fees
Up to 0.1% fee on the spot market trading option

Up to 4.5% on debit card crypto purchases
Up to 0.50% per trade

Up to 1.49% for bank account purchases and Coinbase wallet too

$10 incoming wire transfer fees in the US

$25 outgoing wire transfer fees in the US
Supported assets
Over 600 supported crypto assets

Over 150 supported crypto assets
Security features
Two-factor authorization protocols

FDIC insurance for Binance.us subsidiary

Cold wallet storage of the majority of the funds

Biometric security measures for mobile application
Two-factor authorization protocols

AES-256 encryption for coinbase wallet

FDIC insurance for US customers

Biometric security measures for mobile application

The majority of funds are stored in cold storage wallets
Trading limits
Trading limits differ depending on the desired crypto asset
Trading limits differ depending on the payment method, region, and other factors
Supported transactions

Limit order

Market order

Trailing stop order

Post only order

Margin trading

One cancels the other order

Stop limit order

Take profit order

Peer-to-peer order

Buy order

Sell order

Receive order

Convert order

And others
Buy order

Sell order

Receive order

Convert order

And a few others
Here is how the exchange cards of Binance and Coinbase compare:
Features
Binance Card
Coinbase Card
Verification
Has verification procedures before the card facilitates any transaction.
Has verification procedures before the card facilitates any transaction.
Security
Has some of the best security features thus, no worry about handling it anywhere.
Has some of the best security features thus, no worry about handling it anywhere.
Supported coins
BTC and BNB
9 coins, including BTC, ETH, LTC, XLM, ZRX, BCH, REP, COIN, and XRP
Analytics
The Binance card is yet to be as developed as the Coinbase card though it is improving at a fast rate.
Coinbase card allows users to track their wallet transactions revealing all spending
Integrations
Binance

Cartesi

Swipe
Coinbase

Google play
A chart on comparison between offers/bonuses
| | | |
| --- | --- | --- |
| Offer | Binance | Coinbase |
| Sign-in bonus | Win $9 as a sign-on bonus for new users | Win $5 in BTC as a first sign-in bonus |
| Referral bonus | Refer friends to share the $500K in mystery boxes that offer rewards like a BNB coin | Coinbase has referral bonuses, but they are all timed thus, they expire upon completion of their timeline |
| Trading bonuses | Seasonal trading competitions and other events across different trading options, including derivatives and margin trading | Also has seasonal trading competitions and events across different trading options, but it does not have risky derivatives like futures. |
Passive earning methods like crypto staking, yield farming, and how they compare on Binance and Coinbase
| | | |
| --- | --- | --- |
| Passive earning method | Binance | Coinbase |
| Staking | Has different staking methods, including ETH 2.0 Staking | Has different staking pools for all of its users, including US citizens |
| Yield farming | Has DeFi yield farming with different APYs and locking duration for the supported assets | Does not support it |
| Crypto loans | Supports crypto loans with BNB as collateral | Has crypto loans of up to $100K. However, one can only borrow up to 30% of the BTC balance in their coinbase accounts. |
| Locked savings | Have a locked savings protocol offering interests on different assets over different locking times | Coinbase has staking pools and locking vaults which are free to use. |
| Launchpad | Has a protocol to enlist new DeFi staking partners, usually with high ROIs | Coinbase lacks a rocket launchpad due to its strict listing rules |
Key Features
Supported Currencies
Binance supports over 600 cryptocurrencies and over 150 trading pairs. It US solution the Binance.US offers about 90 crypto assets only. This exchange features the top 10 crypto assets in the market and supports over 18 fiat assets for deposits and withdrawals. Still, one can use almost every fiat currency in their accounts for comparisons.
Coinbase has two platforms. Coinbase and Coinbase Pro. The normal version supports over 150 assets, while the pro version has over 90 assets. However, its US users can access around 110 crypto assets only. It also supports several fiat currencies for withdrawals and deposits but is fewer than Binance's.
Fees
Binance has the upper hand against Coinbase on this front. It has up to 0.1% trading fees in the spot trading option. Though other activities involving third-party organizations like deposit and withdrawal of fiat money have additional fees, this exchange has fees lower than the average in the crypto space.
Coinbase, on the other hand, has fees of up to 0.5% per transaction in the spot trading option. These fees are not as high as some exchanges but also not very low compared to major competitors like Binance. They could be termed as fair. It is also subject to additional fees depending on the third-party services used in transaction processes.
Passive Earning Methods
Both Binance and Coinbase have methods of earning passively from the crypto space. However, Binance has the upper hand in this. It has more options in its Binance protocols. Some of them includes ETH 2.0 staking, Binance Vault, Locked savings, DeFi staking, and the Binance Launchpad.
Coinbase has fewer methods of earning passively from cryptos. It allows users to stake and use its vaults and other partner projects. However, it lacks some risky but highly profitable innovations like Rocket launchpads.
Security and Insurance
Both Binance and Coinbase have commendable security features and insurance systems. They have common features like:
Use of cold storage wallets
2FA security protocols
SMS notification systems
Email notification systems
Biometric systems
FDIC insurance for US clients
This front makes it difficult to determine the winner as both exchanges continuously update their features. However, it is best to keep following the general crypto security protocols when using them.
Trading Experience
Both Binance and Coinbase have straightforward User Interfaces packed with trading tools to help when performing different operations. However, Binance is somewhat more complicated as it offers more trading options like derivatives which are a better fit for experienced traders. This makes it challenging for beginners to find their way around it. However, it has Binance Academy, which is dedicated to helping people with crypto education.
Coinbase has a simpler user interface which makes it friendlier to beginners. It also offers less risky trading options, thus a recommendable platform for those who have yet to learn a lot about the crypto space. However, investors could also research other platforms which may be better fitting for them.
Which Exchange Is Better to Trade On?
Both Binance and Coinbase are some of the best crypto exchanges. However, they both have big shortcomings that could disadvantage their users. For instance, Binance is not supported in some countries, including the US. It also has legal tussles there. On the other hand, Coinbase has a limited collection of assets. It also has limited trading options like lacking futures trading options.
The two exchanges complement each other because they capitalize on different strengths; thus, an investor can use both concurrently rather than settling for one. For instance, a US citizen could trade on Coinbase as it is allowed there and has a wider selection than most exchanges there.
Users in other parts of the world could use Coinbase Card to trade over 9 assets and monitor all banking records of their Coinbase Card, a feature not available on Binance. They could also use Binance for derivatives trading as it has some of the best trading features and orders.
Such a hybrid usage of the two exchanges could make the trading activities of their users more profitable. Also, remember to DYOR before using either of the exchanges, as their policies can change anytime.
Final Word
Binance and Coinbase offer different but similar services. They both have excelled in the test of time, making them the first choice crypto trading platforms for many people. However, they also have their shortcomings, which sometimes complement each other.
Some of the issues that complement each other include fees, selection of assets, legal issues, trading options, and innovation. That shows investors that they should start researching different crypto platforms rather than selecting one as a favorite.
Investors will get more options out there through researching to diversify the services that they receive. This concept has been showcased by different organizations, including the same platforms they use for crypto trading.
For instance, Binance is a CEX but has DeFi protocols found in DEXs and HEXs. This goes as a lesson for investors to be open-minded when dealing with the crypto space. However, everyone should remember to be cautious while dealing with the crypto space, as it is full of risks.