Binance's market share continues to fall. What's happening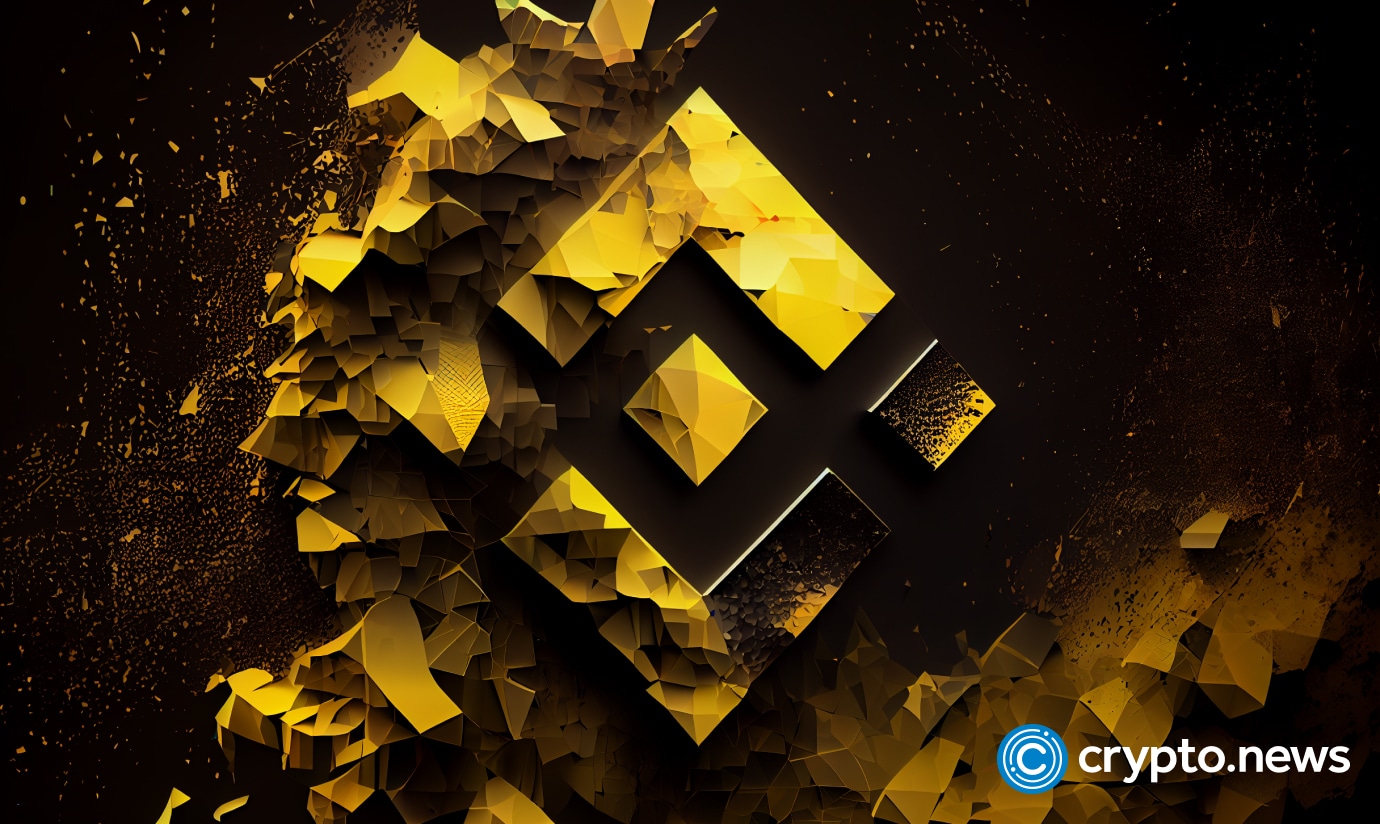 Trading volumes on the largest cryptocurrency exchange, Binance, fell from 74% in December 2022 to 50% in October 2023.
Traders' pullback from Binance was especially evident on October 23rd. While Bitcoin was rising, Binance's market share fell to almost nothing, coinciding with Bitcoin's rise to $34,000. In contrast, OKX's market share has exceeded 50%, according to Kaiko. This is quite unusual.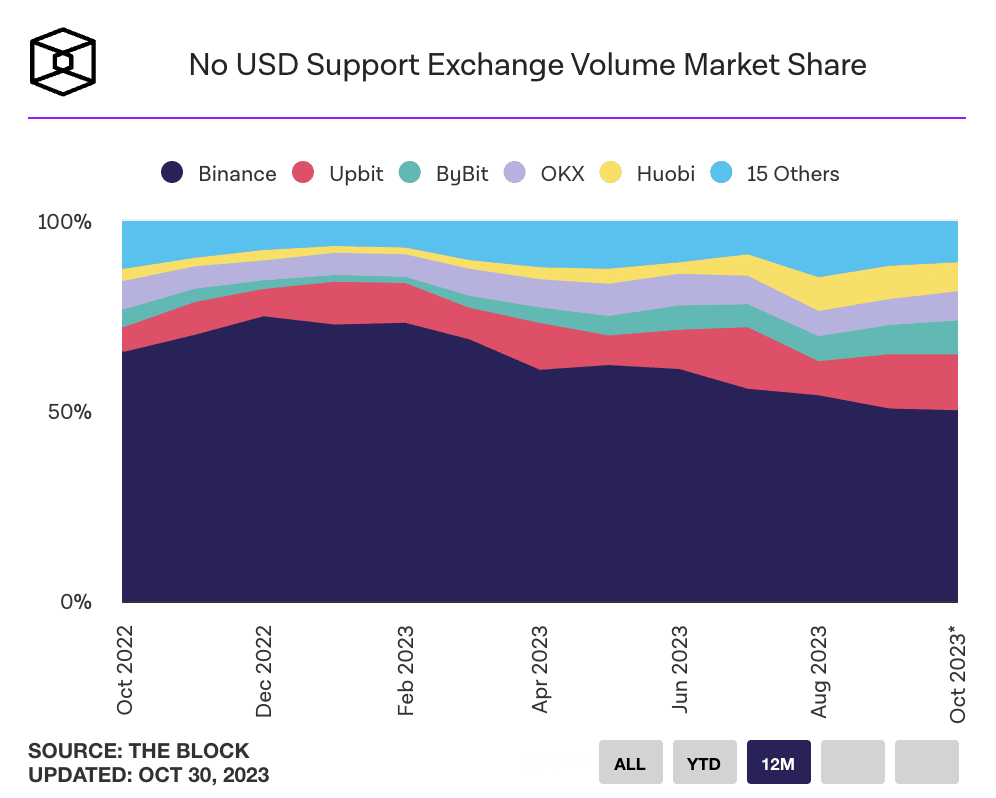 Binance personnel changes
At least 16 top managers have already left Binance. According to The Block analysts, these personnel changes are just the beginning.
Here is the full list of Binance employees who left the company in 2023 despite management positions:
Stephanie Cabossioras, the chief executive of Binance France, left her position in October.
Jonathan Farnell, the head of the UK branch of Binance, held his position for 2.5 years and vacated it in September.
Brian Schroeder, the CEO of Binance.US, left the company in mid-September after taking over two years earlier.
Krishna Juvvadi, the head of legal at Binance.US, quit the same week as Schroeder. This comes amid lawsuits filed against Binance and its CEO Zhao by the Securities and Exchange Commission, accusing them of violating US securities laws.
Sidney Majalya, the chief risk officer, executive vice president, and deputy general counsel of Binance.US, resigned along with Juvvadi in mid-September.
Patrick Hillmann, the exchange's chief strategy officer, also left in September, ending his 2.5-year partnership with Binance.
Mayur Kamath became another top executive to leave his position in September – he has been heading the exchange's global product department since April 2022.
Helen High became the company's 10th top executive to leave in September. Since April, Hai has held the position of executive vice president of Binance, and before that, she headed the African direction of the exchange for 3.5 years.
Vladimir Smerkis was appointed general director of the Russian division of the exchange in January 2022, but against the backdrop of international sanctions, he decided to resign in September.
Gleb Kostarev came to Binance in July 2019 as the head of the marketing department in Eastern Europe and the CIS, but from March 2022 until his dismissal in September 2023, he served as vice president, regional head of the Asia-Pacific region, Eastern Europe, CIS, Turkey, Australia, and New Zealand.
Leon Fung, Binance's head of Asia Pacific, left the company at the end of August amid claims of increased regulatory scrutiny.
Matthew Price is the Head of Intelligence and Investigations at Binance from September 2021 to July 6, 2023.
Stephen Christie served as Binance's senior vice president of compliance for over a year but resigned on July 6, citing personal reasons.
Hong Ng is Binance's General Counsel until July 6, 2023.
Steve Milton announced on July 6 that he would step down from his position as Global Vice President of Marketing and Communications for Binance, a position he held for 4.5 years.
Milton, Hillmann, Ng, and Price quit precisely because of the US Department of Justice's investigation into the exchange.
Regulatory problems
The charges brought against the trading platform and its branches by the authorities of the United States, France, Brazil, Great Britain, and other countries are quite varied. The company (and sometimes its director Changpeng Zhao) is accused of, among other things, money laundering, trading in unregistered securities, and circumventing international sanctions against Russia.
In 2023, in a number of European countries, the largest crypto exchange was deprived of its license. In addition, the French division of the company was investigated due to its work before obtaining a license and suspicions of aggravated money laundering.
The company is also fighting charges from the Commodity Futures Trading Commission and the U.S. Securities and Exchange Commission. This development of events caused concern among a number of trading firms, which forced them to curtail their trading activities on the stock exchange.
Binance CEO is getting poorer
The fortune of the founder and CEO of the Binance cryptocurrency exchange, Changpeng Zhao, has decreased by almost 82%. In January, his capital was $96.6 billion, and now it is $17.2 billion.
Zhao's capital is calculated based on his shareholding in the crypto platform. Thus, Binance's revenue for 2023 amounted to $7.6 billion, as evidenced by the average value of the volume of spot and derivatives trading on the exchange.
What's next for Binance?
Discussions about the collapse of Binance follow recent events in the crypto space. Following the collapse of the second-largest cryptocurrency exchange, FTX, market participants questioned the integrity of other centralized crypto platforms.
Moreover, although Binance faces regulatory issues, some prominent figures in the crypto community have consistently stated that the exchange is not as secure as it is made out to be. They constantly urged Binance users to withdraw their funds from the exchange.
However, despite the crisis, the platform maintains its position as the largest crypto exchange.