Crypto Bear Market Continues With a 20 Percent Drop in Bitcoin: Week in Review Apr. 3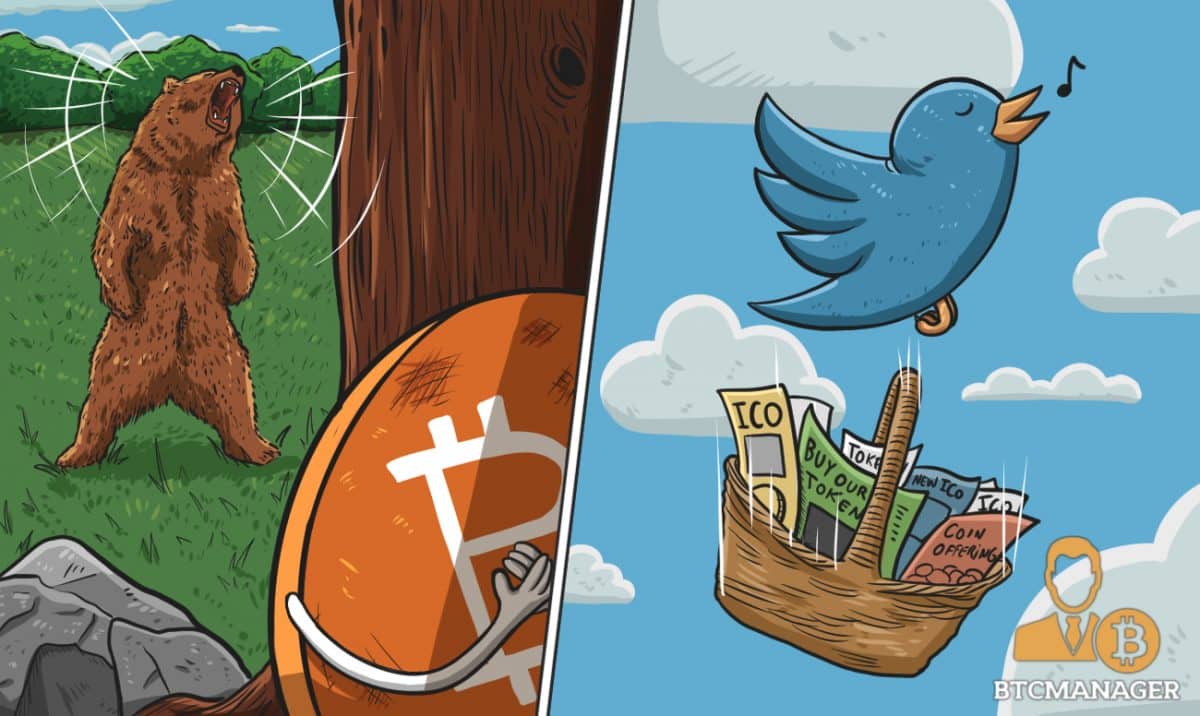 It was another difficult week for cryptocurrency investors as 2018's downward trend continued with bitcoin dropping by over 20 percent from March 26.

The main driver cited behind the decline in cryptocurrency valuations was further bans for cryptocurrency-related advertising as Twitter has also announced that it would ban crypto ads to fight fraudulent activity in this industry. With a lack of exposure for bitcoin wallet and exchanges on social media, it will become harder to grow the cryptocurrency investor community, which investors have priced into bitcoin & co this week.
Email marketing provider MailChimp also announced that it would stop servicing cryptocurrency startups in an attempt to curb "scams, fraud, phishing, and potentially misleading business practices." Having said that, the cryptocurrency community is fighting back against the oligopoly of the social media giants Twitter, Facebook and Google. Blockchain associations across the globe are preparing to file a lawsuit against the tech companies that are prohibiting marketing for crypto-related products and services.
On the positive news front, the beta version of the lightning network has gone live and there are already over 1,000 nodes supporting the network. This could be the beginning of a lasting solution for Bitcoin's scalability challenge, which should bode well for the price of bitcoin in the coming months.
Furthermore, Coinbase announced that it will support ERC20 tokens on its platform, which should give Ethereum-based tokens a boost in the future.
This week's contributions have been provided by Cindy Huynh, Nuno Menezes, Ogwu Osaemezu Emmanuel, Priyeshu Garg, and Shaurya Malwa.
According to Wall Street analyst Thomas Lee, if an investor were unable to hold stocks through the golden ten days for the S&P 500 each year, the yearly return would see a drop from 9.2 to 5.4 percent.
"Long-time holders are worried because they have big gains and they're worried about falling prices. But, Bitcoin is a great store value. It works really well. It's kind of boring because it's not the latest and most exciting project. But it also is one of the most liquid ways to get exposure to crypto," Thomas Lee, head of research at Fundstrat Global Advisor told CNBC. He also added, "the mood in crypto is terrible right now."
Likewise, Lee also added that the reason 'buy and hold' (or HODL) makes sense for BTC is that a handful of days each year account for the bulk of gains for BTC. For instance, in 2017, a total of 12 days represented the full-year return of BTC.
On March 28, 2018, the PBoC outlined its agenda for 2018 at a conference on the subject, stating that innovation and promoting research and development of the central bank's digital currency are going to be top priorities for the financial authority.
The announcement underlines a strong emphasis on the need to strengthen the Renminbi (China's official currency) and jack up capital controls.
The PBoC conducted the 2018 National Currency Gold and Silver Work Video and Telephone Conference. The conference saw the participants discuss various issues pertaining to financial development, as well as the challenges awaiting China's economy in the coming fiscal.
The PBoC was represented by Deputy Governor Fan Yifei who delivered a speech outlining the central bank's vision for 2018.
A gang of Ukrainians and Russian cybercriminals was seized March 22 by the Spanish Police. Apparently, the group has allegedly stolen along five years from financial institutions worldwide more than one billion euros (about $1.24 billion) and converting to bitcoin.
According to the Spanish police and European Union law enforcement agency, Europol, the criminal mastermind behind the gang known as "Denis K" was arrested in Alicante, a coastal city of Spain, 350 kilometers southeast from the country's capital, Madrid. The cybercriminals were long being tracked by the several security institutions across several countries in an ongoing investigation.
The hackers were able to inject malware to target more than 100 financial institutions worldwide. With these malware attacks, the criminals were able to steal about 10 million euros ($12.3 million) in each heist. According to the investigators, the criminals were able to target almost all of Russia's banks, and about 50 of them lost money in the cyber-attacks.
In a point for cryptocurrencies, however, the German National Tourist Board (GNTB) has now made bitcoin legal tender in the tourism industry.
Present in 32 countries, the GNTB is poised to be a force to reckon with in the blockchain and crypto space. The organization is focused on championing the revolution in the tourism ecosystem.
"We want to be a global innovation driver in the tourism industry," CEO of GNTB, Petra Hedorfer declared, adding that "In the course of our digitization strategy, we are constantly reviewing the latest technology and trends their applicability in our company."
As such, it's clear that the organization firmly believes in the capabilities of the distributed ledger technology. Therefore it is wasting no time in integrating the disruptive innovation into its processes in a bid revolutionize the tourism sector.
According to Stuff, in early February, a lot of the exchange users started to report withdrawal delays among other issues with the platform. Since then, the number of complaints has raised exponentially. Customers are very upset with the withdrawal delays issues, and the problem is escalating fast. Customers are now afraid the exchange goes rogue and steals their coins.
Aside from the platform issues, the exchange stands now accused of scamming its customers as well, but, no real evidence has been presented so far.
Despite Cryptopia being a small exchange, it is reasonably known among altcoin users as it is the only exchange where you can find some low-cap cryptocurrencies. We all know that managing a cryptocurrency exchange is no easy task, especially a small one like Cryptopia. However, the issues with the platform have been going on for a long time now as users are demanding for things to be solved.
Cryptopia users have a lot of concerns right now as to whether the platform will be able to solve the ongoing issues or if it will become something like Cryptsy, which strangely enough started with the same problems right before its shutdown.
Australian Tax Office Seeks Public Input of Cryptocurrency Taxes
On March 26, the ATO mentioned the update of their cryptocurrency taxation guidelines on March 13. However, the increased interest in cryptocurrency taxes resulted in a large number of queries from the community concerning specific tax events. To clarify the situation, the ATO is launching a "community consultation" to understand and address the common questions about cryptocurrency transactions:
"The purpose of this consultation is to seek feedback on practical compliance issues arising from complying with taxation obligations about cryptocurrency transactions. In particular, we are interested in any practical issues that may impact on taxpayers' abilities to calculate and substantial any capital gains and losses for capital gains tax (CGT) purposes."
According to Business Insider Australia, on February 28, 2018, the ATO announced that they would pursue cryptocurrency investors to ensure they fulfill their cryptocurrency tax liabilities.
WannaCry Ransomware Strikes Boeing, Aviation Giant Says Situation Is Under Control
According to reports, a Boeing production plant in Charleston, South Carolina, found itself at the receiving end of the infamous crypto worm (a type of malware developed using cryptography).
It looks like the attack was detected pretty early and Mike VanderWel, Chief Engineer at Boeing Commercial Airplane production unit, dispatched a company-wide memo asking for "all hands on deck."
"It is metastasizing rapidly out of North Charleston, and I just heard 777 (automated spar assembly tools) may have gone down," reads the memo.
As the news broke, it created a panic in some quarters as it was theoretically possible for the virus to affect equipment used in functional airplane tests, which could worsen the already bad situation by infecting in-flight software.
However, Boeing played down the severity of the attack and released a statement on March 28, 2018, saying that only a limited number of machines were affected. It further clarified that the production lines were working as usual without any interruption of any kind.
ERC20 Tokens to Be Supported on Coinbase
In a press release dated March 26, 2018, Coinbase published a report on its intention to add Ethereum ERC-20 support for its range of products. By supporting the Ethereum ERC20 technical standard, the US-based firm can add a lot of "altcoins" on its wallets and exchanges, thus opening the gates for a flood of new investors.
Whenever Coinbase makes an announcement, it generally causes an influx of new investors, as the company has a large and trusted user base around the world, but primarily in America.
While the announcement has had no significant impact on the market yet, attributing to the general bearish sentiment, the news is important in paving the way forward for an increased number of people purchasing, using, and trading cryptocurrencies apart from bitcoin and ether.