Crypto Miner Riot Made $9.5M by Shutting Down Amid Texas Heatwave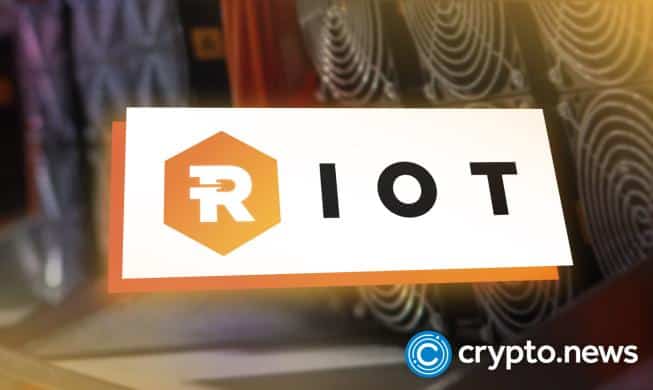 Riot Blockchain, an American Bitcoin mining company, earned an estimated $9.5 million in power credits by halting mining operations at its Texas facility last month in response to a state request.
Riot Earned $9.5M by Shutting Down During Heatwave
According to a company statement released on Wednesday, the industrial crypto miner earned around $9.5 million in power credits for its curtailment activity—roughly 439 Bitcoin based on the average July price of $21,634.
The reward more than makes up for Riot's waning production of 318 Bitcoin last month, which is 28% lower than the 443 Bitcoin mined in July 2021.
The payment is part of a demand response program available to Texas miners that compensates them for returning power to the grid when demand threatens to overwhelm the system. According to Bloomberg, such an occurrence was observed on July 8 when a statewide heatwave drove energy consumption to a record high of 78,206 megawatts.
As a result, when the Electric Reliability Council of Texas (ERCOT) urged Texas residents to conserve power wherever possible, nearly every industrial-scale miner responded. Over 1,000 megawatts of mining load were returned to the grid as a result of the miners' efforts.
Riot stated that it reduced 11,717-megawatt hours in July, which is sufficient to power 13,121 average homes for one month.
"The Company has consistently and proactively pursued low-cost, large-scale access to power under its long-term fixed-rate power contracts, providing it with a unique ability to support ERCOT and release capacity back into the grid when power demand in Texas is high," explained CEO Jason Les.
As of July 31, the company held 6,696 bitcoin, having sold 275 of them for a profit of $5.6 million.
Riot recently began relocating all of its miners from Massena, New York, to Texas. The move is justified by the fact that regulators and lawmakers in the "Lone Star State" have taken a pro-crypto stance in recent months. At the same time, electricity prices are much lower than in other parts of the United States.
Crypto Winter Aggravates Miner Woes
Cryptocurrency miners incur numerous fixed expenses, including electricity, real estate, and specialized mining computers or rigs.
For this reason, it can be a nightmare for their margins when the market takes a nosedive and the value of any crypto assets, such as Bitcoin, plummets dramatically. And now that the crypto market appears to be in a lengthy bear market, miners are being forced to adapt.
According to CoinMarketCap, the global market capitalization of cryptocurrency is now around $1.1 trillion, which is half of what it was in April. Markets took their first big hit when Terra began to collapse in May, then again in June when Celsius became the first major crypto lender to freeze customer withdrawals in order to prevent a bank run.
In June, major mining companies, including Core Scientific, were forced to sell the majority of their Bitcoin holdings in order to "enhance liquidity" as Bitcoin's plummeting price slashed miners' profit margins. According to Blockchain.com data, this has resulted in a slight decrease in the network's hash rate since June.
Nevertheless, Riot maintains a "deployed fleet" of 40,311 miners with a hash-rate capacity of 4.2 exahashes per second—nearly 2% of Bitcoin's total hash rate.