Microsoft Not Planning to Emulate Tesla's Bitcoin Buy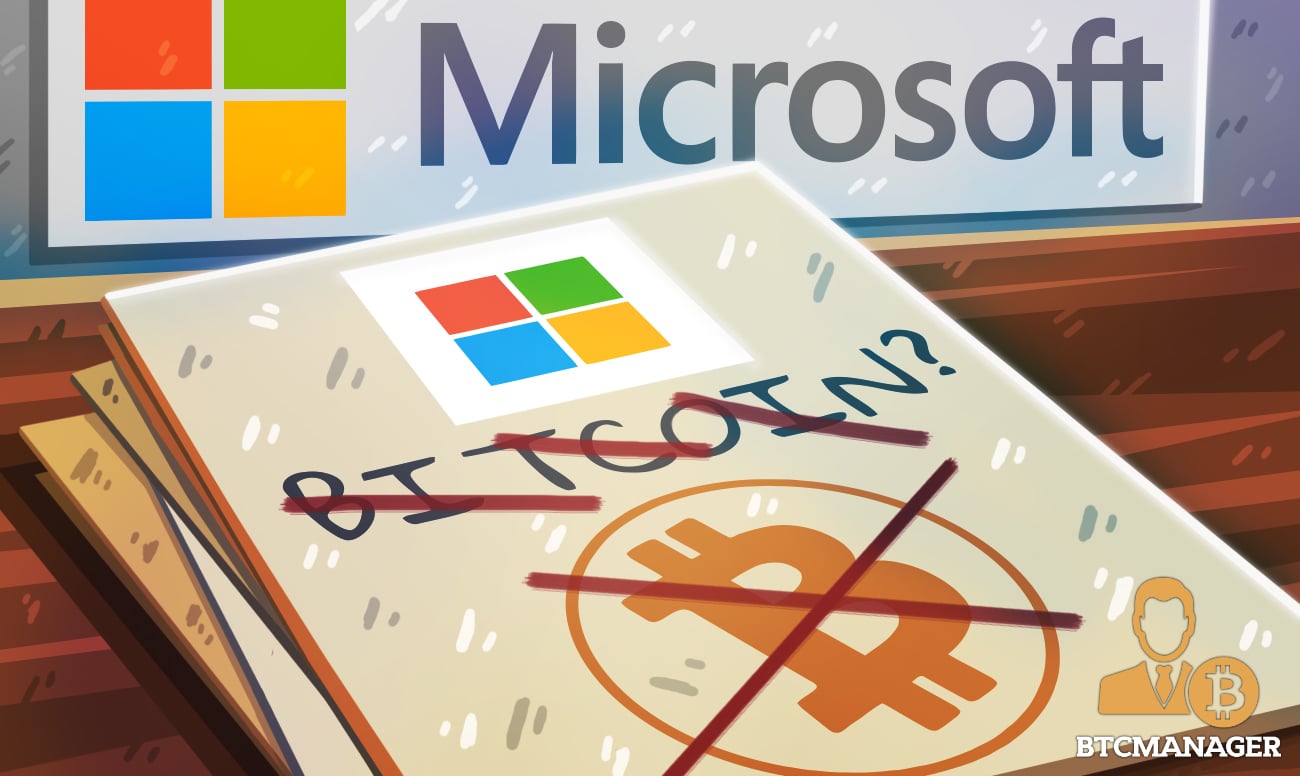 Global tech giant Microsoft does not have immediate plans to put bitcoin on its balance sheet, according to the company's president. Meanwhile, bitcoin continues to see an increased interest from major companies and institutions. 
Microsoft not Ready to Make Bitcoin Investment 
Speaking in a CNN interview on Tuesday (Feb. 16, 2021), Microsoft president Brad Smith revealed that the company was not discussing making any bitcoin investment in the near future. Smith, However, the Microsoft president did not completely dismiss the idea of investing in the biggest crypto asset by market capitalization.
When asked by CNN's Julia Chatterley if the company was going to follow Tesla's step by allocating a portion of their cash balance to bitcoin purchase, Smith said that the company was not making such plans, but would make it public if it decided to invest in BTC.
While the tech giant seems not to currently consider making any bitcoin investment, more major companies have shown interest in bitcoin. Indeed, 2020 saw a wave of institutional investors pumping money into bitcoin.
Companies like Microstrategy and Square made headlines in 2020 after they bought bitcoin. Other asset managers, hedge funds, and insurance firms, such as Ruffer Investment, SkyBridge Capital, MassMutual, and Guggenheim, also followed suit with BTC purchases. Meanwhile, MicroStrategy has been on a bitcoin buying spree and recently said it was planning to raise $600 million to purchase more BTC.
The rising institutional interest in bitcoin has not waned in 2021. As reported by BTCManager earlier in February, electric vehicle manufacturer Tesla bought $1.5 billion in bitcoin, with plans to make the number one crypto a payment method for its products.
Following Tesla's bitcoin buy, more companies have been asked if they would emulate Elon Musk's company. Investment bank RBC Capital Markets believed that U.S. tech giant Apple should purchase BTC and also consider launching a bitcoin exchange platform.
Apart from major companies, banks are also joining the bitcoin bandwagon. JPMorgan said it could offer bitcoin trading services if its clients demand for the flagship crypto. Another banking giant Goldman Sachs could also be showing interest in the crypto after it held a meeting with Galaxy Digital's CEO Mike Novogratz for its employees and clients.