Top 5 cryptocurrencies that lost the most in February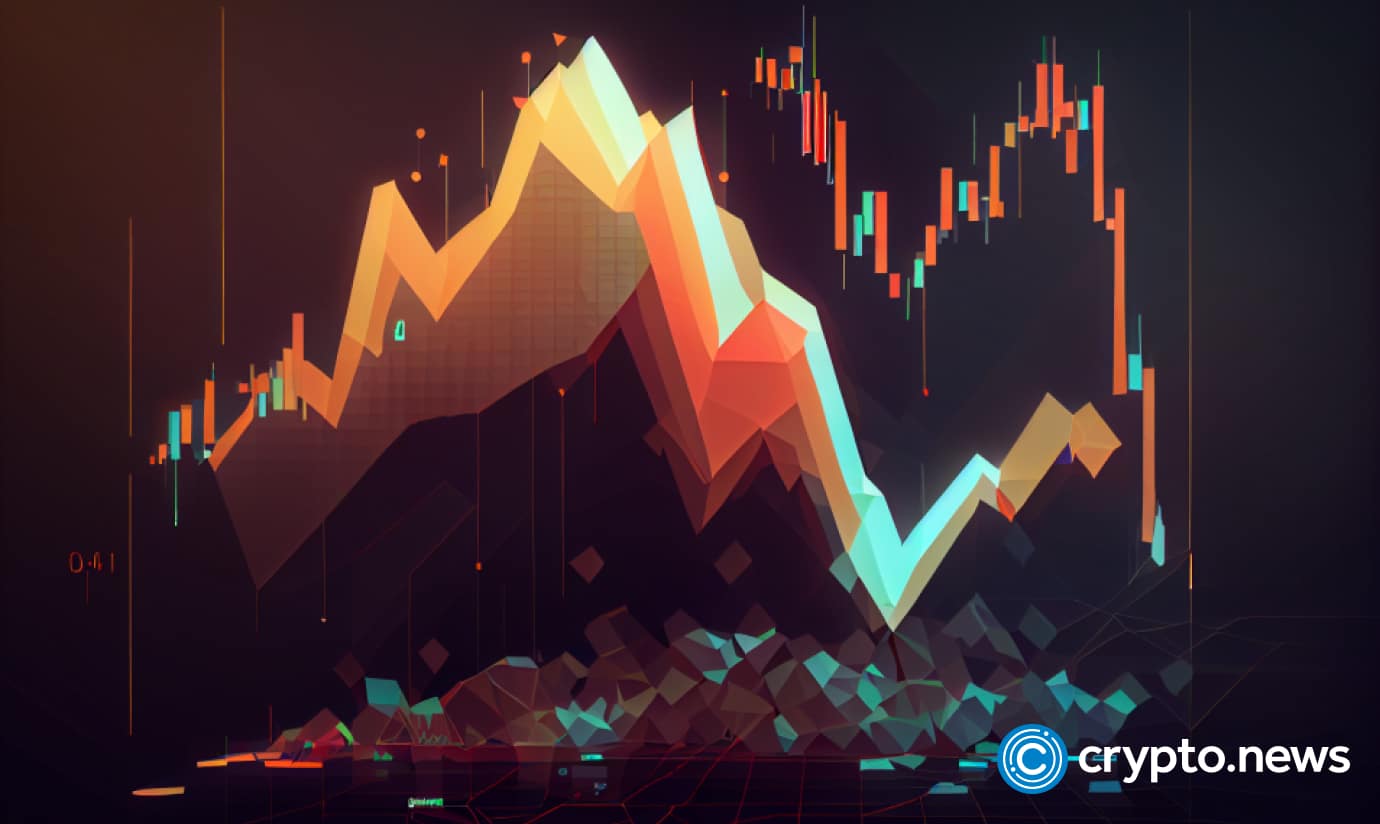 As the total crypto market cap plunged from the $1.13 trillion mark, some digital currencies have dropped along with it over the past month. Here are the top five losers on the month, according to data provided by CoinMarketCap (CMC).

Aptos (APT)
Aptos (APT) ranks first on this list, which is not a good thing, with a 29.5% drop over the last 30 days. APT is currently trading at $12.48 with a market cap of roughly more than $2 billion. Aptos Labs announced a $50,000 grant for the advancement of blockchain technology to Professor Lorenzo Alvis of Cornell University on Feb. 2.
While February was not a good month for APT, the token registered around 60% gains over the last week of January.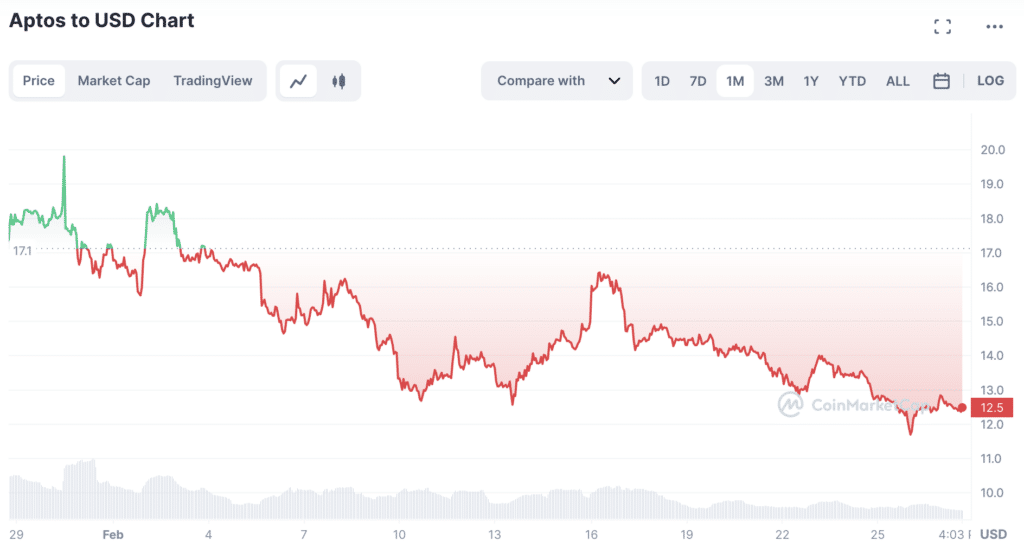 Trust Wallet Token (TWT)
The second-worst mover on the list is the Trust Wallet Token (TWT) with a 21.8% decline over the mentioned timeframe. TWT is now trading at $1.38 with a market cap of $573 million. In Nov. 2022, DAO Maker announced an extension that could operate the Trust Wallet.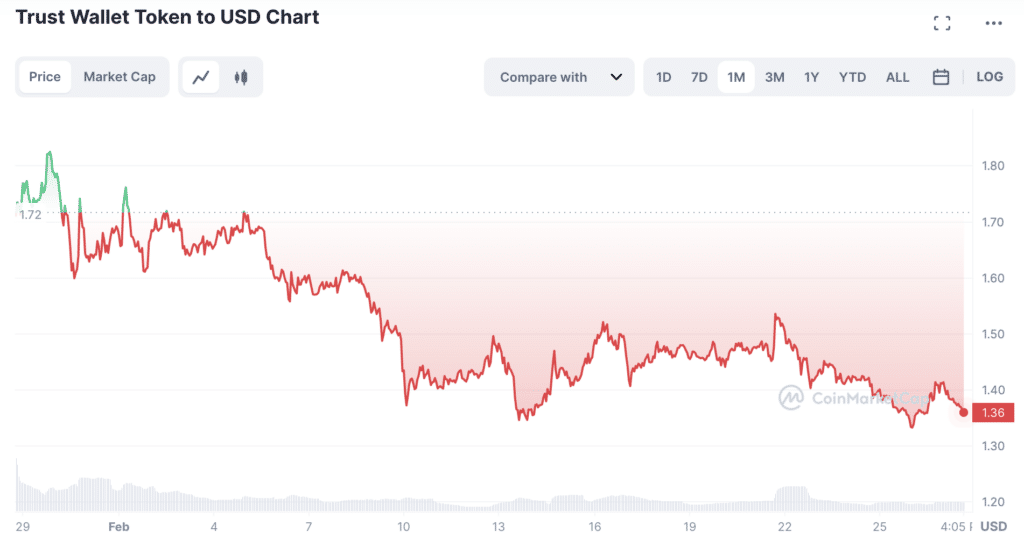 Axie Infinity (AXS)
The native utility token for the popular Play-to-Earn (P2E) game Axie Infinity has also dropped by 18% in the past 30 days. AXS is trading at $9.88 with a $1.1 billion market capitalization. 
Last month, AXS surged by nearly 14% as crypto gaming started to see some positive movements. The online non-fungible token-based (NFT) platform also saw a 214% uptrend in its total number of sales.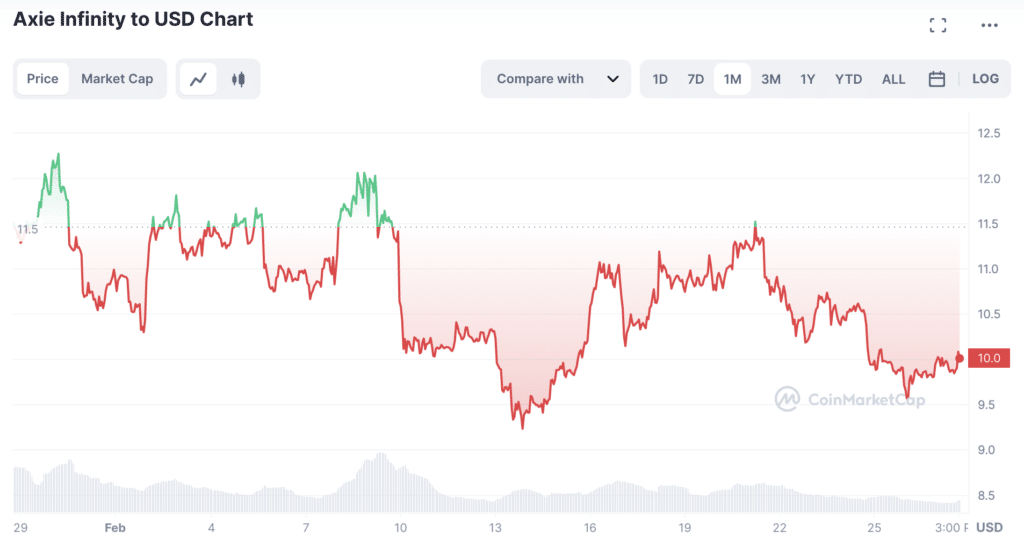 Nexo (NEXO)
Nexo (NEXO) ranks fourth on this list with a loss of 16.63% over the past month. The asset is currently changing hands at $0.71 with almost $400 million in market cap. The downward movement comes as the crypto lending platform witnessed tax evasion and money laundering charges in Bulgaria.
Nexo's co-founder, Antoni Trenchev, called the law enforcement's move "ludicrous," while claiming that the authorities don't have any proof while making strong indictments.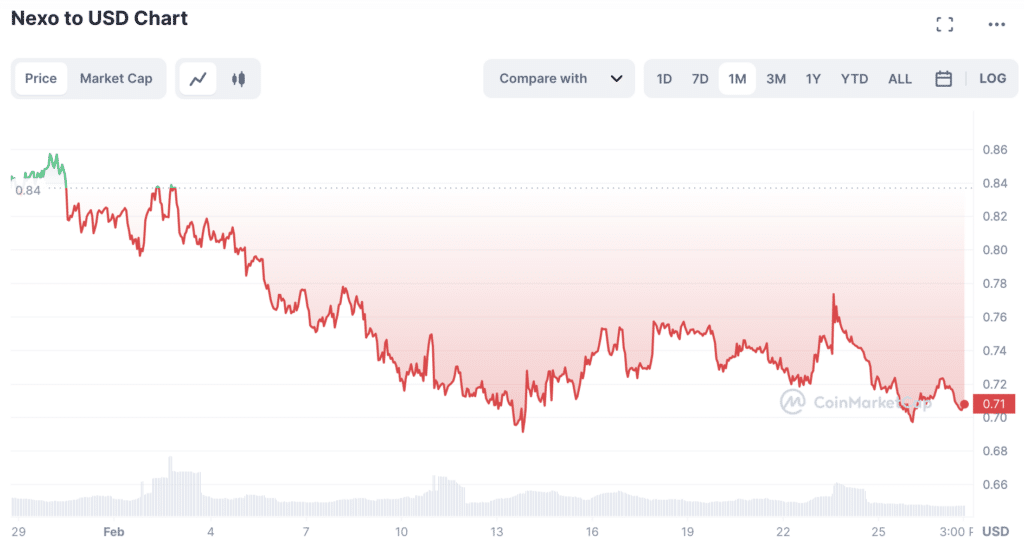 ApeCoin (APE)
The last cryptocurrency on this list belongs to one of the most popular NFT creators, Yuga Labs. ApeCoin (APE) saw a 15.93% fall over the last 30 days, with the price dropping to $5.22. On Jan. 10, 2023, APE rose by over 6% as the asset's staked volume skyrocketed to over 92 million APE, worth around $450 million at the time of the report.
The downward movements come as the total crypto market capitalization dropped from around $1.13 trillion on Feb. 19 to roughly $1.07 trillion at the time of writing, according to CMC data.