A Year in Cryptocurrency and Blockchain: Q2 2018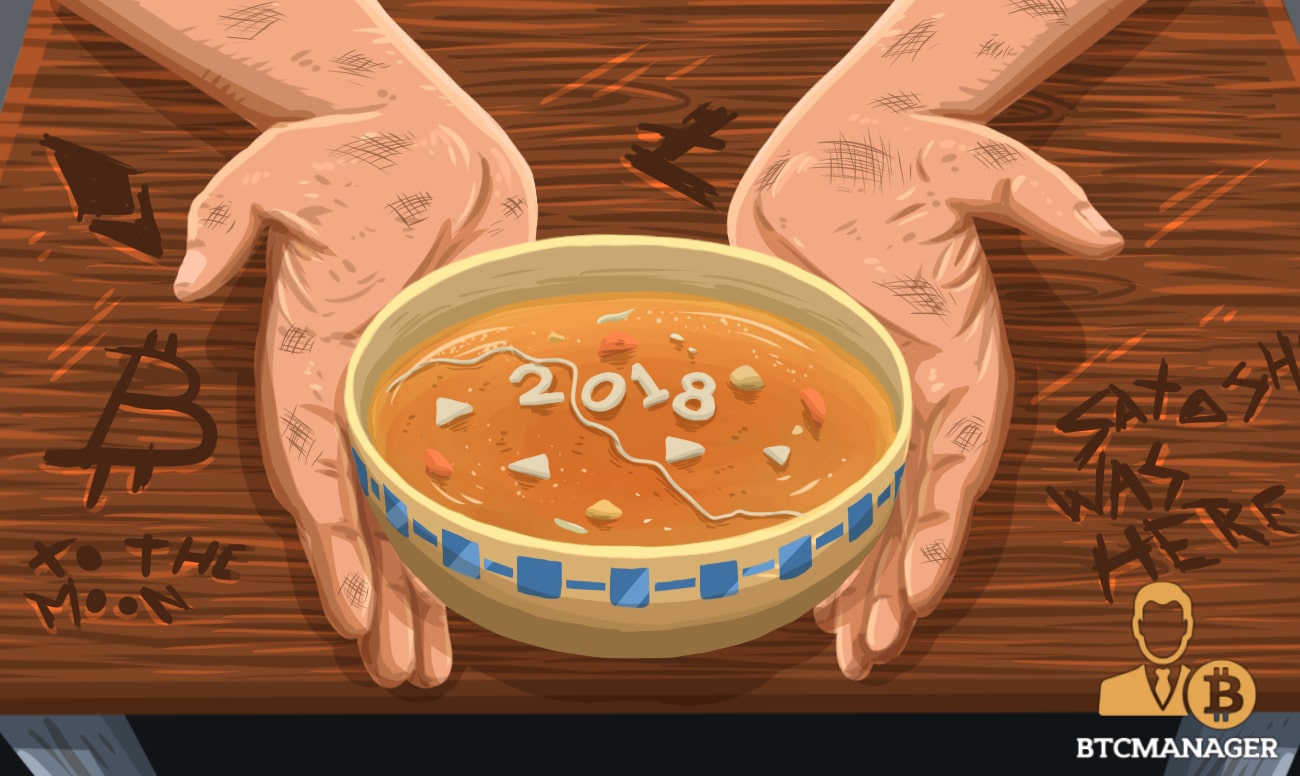 While the first quarter of 2018 was marred by the Coincheck and BitGrail security breaches, Q2 saw the resurgence of cryptocurrency-based ETFs, announcement of key acquisitions and controversies among blockchain startups. The cryptocurrency market showed small signs of improvement in May, with Bitcoin even briefly peaking at $10,000. By the end of June 2018, however, it was trading sub-$7000 once again.
The following is a description of some of the most prominent events in the industry from the second quarter of 2018.
Winklevoss Twins' Bitcoin ETP
The Winklevoss brothers of Facebook fame made headlines on May 9, 2018, when they landed a patent related to a crypto-based ETP. The patent was described as a method "for providing an exchange-traded-product holding digital math-based assets." The document included specific references to several cryptocurrencies, including bitcoin, Ethereum, and Dogecoin among others. However, the twins still needed the approval of US regulators before they could begin offering a crypto-based fund.
Given that the Winklevoss Twins own the New York-based Gemini cryptocurrency exchange and are among the earliest cryptocurrency investors, many believed that they would be the first to launch a bitcoin-based ETF. On July 26, however, the United States Securities and Exchange Commission (SEC) reportedly voted against the Winklevoss Bitcoin Trust's commodity-based shares by 2-1.
The SEC noted that 75 percent of cryptocurrency trading takes place outside the United States, with 95 percent of the volume residing on non-U.S. exchanges. The commission reiterated investor protection concerns, which it first brought up in a separate letter published in January 2018. In summary, the SEC was not convinced that cryptocurrency ETFs could be sufficiently protected from manipulation. The Winklevoss brothers notably had their first ETF application turned down in March 2017 over similar concerns.
Binance Moves to Malta
On March 23, 2018, cryptocurrency exchange Binance published a blog post announcing that it would be setting up its operations in the European island nation of Malta. According to the company, Malta was the best possible choice as the country "is pro-blockchain, and is actively building a supportive regulatory and technical infrastructure." At the time, the exchange boasted a daily trading volume of roughly $1.6 billion.
Originally based in Shanghai, Binance was forced to move after the Chinese government cracked down on initial coin offerings and digital currency exchanges in September 2017. Unlike some exchanges that were forced to shut down entirely, Binance already catered to an international audience and could stay in business in spite of the ban. The company then moved its operations to Hong Kong, a region that enjoys legal autonomy from China.
However, Binance founder Changpeng Zhao later said that the company came under increased scrutiny by authorities in Hong Kong, forcing it to look at other East Asian countries. Then in March, the Japanese Financial Services Agency (FSA) warned Binance against operating in the country without a proper license. Zhao tweeted in response, "We are in constructive dialogs with Japan FSA, and have not received any mandates."
Coinbase Acquisitions
Cryptocurrency exchange Coinbase went on an aggressive acquisition spree early 2018, starting with Ethereum dApp viewer, Cipher Browser on April 13, 2018. Cipher's founder, Pete Kim, was brought on board to head Coinbase's browsing platform, named Toshi. However, the more significant purchase was that of Earn.com, a U.S. startup that paid users in cryptocurrency for replying to emails and completing other small tasks. The deal was reportedly closed for $100 million in cash, equity, and crypto assets.
As part of the acquisition, Coinbase appointed Earn's co-founder and CEO Balaji Srinivasan as its first-ever Chief Technology Officer (CTO). The remainder of the employees were also expected to be integrated into the cryptocurrency company's workforce. Many speculated that the acquisition was primarily centered around securing talent from the company, especially as Coinbase CEO had already expressed a desire to hire senior executives in the first half of 2018.
Tezos KYC Debacle
On June 11, 2018, open-source blockchain governance platform Tezos announced that it would be enforcing mandatory Know-Your-Customer (KYC) checks for all its existing investors. This included individuals that had bought into the platform's initial coin offering (ICO) over 11 months ago. Notably, at the time of its token sale, Tezos had completed the largest ever ICO at $232 million.
In an attempt to justify the background check, the Tezos Foundation published a Medium post stating that "it has become best practice to verify that contributors meet basic KYC/AML criteria." While Tezos did not correctly cite any reason for suddenly requiring KYC compliance, many speculated that it was due to the SEC's increased pressure on initial coin offerings.
Co-founder of Ethereum, Vitalik Buterin, expressed his disapproval over Tezos' approach as well, even suggesting that the platform's open-source codebase be forked. He tweeted:
"This seems backward. Why can't third parties just run a script to scan the BTC/ETH blockchains, see how much everyone contributed, calculate how much XTZ everyone should get, and generate the genesis block without Tezos Co involvement? That's how the Ethereum launch worked."
EOS Mainnet Launch Controversy
Between May and June 2018, blockchain platform EOS received widespread criticism over its flawed mainnet launch that saw repeated delays, concerns over security vulnerabilities and potential centralization. Block.one, the company that founded EOS in 2017, had managed to raise $4 billion in a year-long initial coin offering. At the time, the platform was heralded as a viable competitor to Ethereum as it promised increased scalability for smart contracts and decentralized applications.
EOS' mainnet launch was initially scheduled to take place on June 2, 2018. However, the actual launch procedure did not commence until June 9, 2018. The delay was likely due to the disclosure of several vulnerabilities by Chinese internet security firm Qihoo360 that allowed hackers to remotely control EOS nodes and attack dApps built on top of the blockchain. Block.one subsequently announced the EOSIO Bug Bounty Program in an attempt to find and fix other bugs before the launch.
The platform also came under fire for employing a consensus algorithm that was viewed as centralized. Based on the delegated proof of stake (dPoS) mechanism, EOS only employs 21 block producers to act as validators for the entire blockchain network. These individuals also decided whether or not the mainnet was ready to be launched. According to the EOS website, "EOS block producers (BP) candidates meet on video everyday vote on whether or not the mainnet will be ready to launch the following day. The vote is cast as GO or NOT GO."
Conclusion
In summary, the second quarter of 2018 proved to be quite busy for almost all of the top 10 cryptocurrencies. While smaller cryptocurrencies such as Tron and EOS launched their mainnets in June, larger ones such as bitcoin saw a surge in the development of scaling solutions. The Lightning Network, for instance, grew in capacity by 20 BTC and saw the number of channels double.