Bitcoin Finds Footing at Current Levels Amid a Quiet Newsflow Week: Week in Review August 20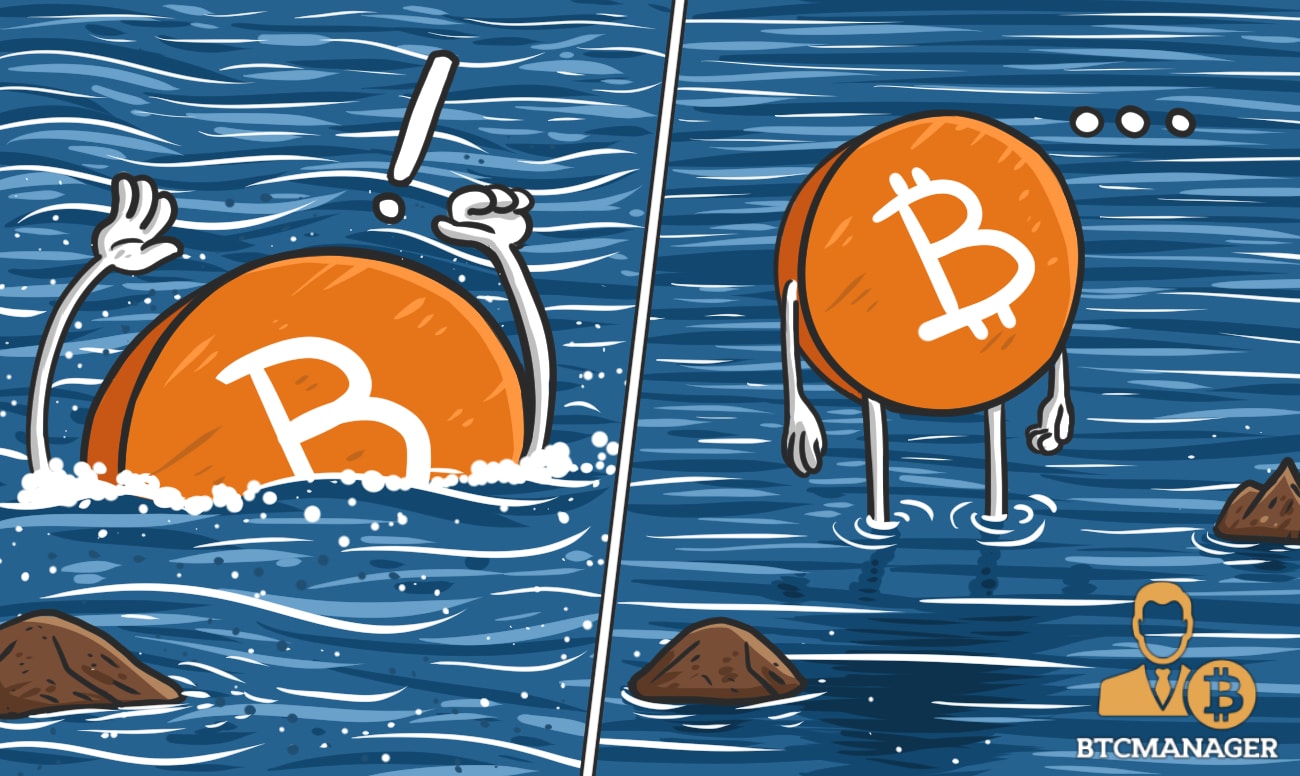 After two consecutive bear market weeks, the price of bitcoin closed the week effectively unchanged around the $6,400 mark.
In a volatile seven days, bitcoin (BTC) traded in a range between $6,000 and $6,600 but managed to maintain last week's price level as the week closed. After a couple of difficult weeks for the pioneer cryptocurrency, this price stabilization gives hodlers some relief and hope that the next directional move may be back "to the moon."
Bitcoin-related news flow has been relatively muted with some positives to note.
The announcement of a Bitcoin ETN becoming accessible to US investors means more investors can access bitcoin through a regulated investment vehicle. Additionally, some believe that the ability to invest in the Bitcoin ETN using American dollars means that we are another step closer to a publicly-traded Bitcoin ETF in the U.S.
Moreover, Binance is launching a new exchange in Lichtenstein while LINE Corporation has announced the creation of a new cryptocurrency fund.
Conversely, GPU producer Nvidia has come out and said that it would be leaving the crypto business as it does not believe it will recover to its recent highs.
Whether this week's price stabilization is just a short stop on an extended move lower for bitcoin or whether this marks buyers coming in to buy near this year's lows to benefit from an upcoming rally remains to be seen.
The altcoin market had a very mixed week with some clear winners (such as XRP) and losers (such as ETH and ADA).
This week's contributions have been provided by Aisshwarya Tiwari, Cindy Huynh, Eric Czuleger, Joseph Young, Ogwu Osaemezu Emmanuel, and Pratik Makadiya.
Exchange Traded Notes Allow Investors with Dollars into the Market
In late August 2018, American investors will be able to purchase a Bitcoin exchange-traded-note which seeks to allow some of the more timid investors an opportunity to own the digital currency.
The product is called Bitcoin Tracker One, and it is now listed in U.S. dollars under CXBTF which allows brokerages to offer it to American investors. While this is not the ETF decision that the marketplace has been waiting for, it will enable investors to purchase Bitcoin as a financial product listed and regulated in Sweden.
Bitcoin Tracker One is akin to purchasing an American depositary receipt, meaning traders can see it as a foreign-listed asset in U.S. dollars. All the trades are executed in dollars while being held in custody in home markets, as stated by the OTC Markets Group.
In a bid to become the Facebook of the crypto sector, Coinbase, the world's largest exchange for buying and selling digital currencies, announced the acquisition of Distributed Systems, a three-year-old startup building identity standards for dApps known as the clear protocol on August 16, 2018. The Distributed Systems team, lead by Nikhil Srinivasan, will help Coinbase to form a Facebook-style login service.
The San Francisco-based startup of five members is renowned for its work in an area of blockchain-based digital identity security. A Medium page of the company describes the venture thusly: "Our shared mission is to build an open financial system for the world."
According to Amstrong's vision, the company wants to build an identity verification system that can be connected to any decentralized app while retaining control. Coinbase intends to roll out the login with the Coinbase platform as a software development kit that developers could integrate within their app.
Chinese messaging app Line recently announced on August 15, 2018, the launch of a $10 million investment fund dedicated to cryptocurrency startups. Line's South Korean-based subsidiary Unblock Corporation will operate the fund, and it will be known as Unblock Ventures.
According to TechCrunch, Line's cryptocurrency fund will focus specifically on early-stage startups. The messaging app, however, didn't provide any further details. Line mentioned on their press release that their objective is "to boost the development and adoption of cryptocurrencies and blockchain technology."
Line is prevalent in Japan, Taiwan, Thailand, and Indonesia. They have almost 200 million users who are also connected through a variety of other services which include a payment platform, social games, food delivery service, ride-hailing, and many more.
Line is currently listed on the Tokyo Stock Exchange and the New York Stock Exchange. The creation of a cryptocurrency fund makes the Chinese messaging giant one of the first publicly traded companies to create a fund purely dedicated to early-stage cryptocurrency startups.
In an interview with Bloomberg, CEO of Gemini Trust Co., Tyler Winklevoss believes that even though the Wall Street seems to be high on cryptocurrencies; factors such as negligence by U.S. regulators and a general lack of initiative to establish regulatory standards are a big hurdle for a majority of Wall Street firms to invest in the crypto world fully. However, he also expects this reluctant sentiment to change steadily over time.
High net worth individuals and institutional investors have been somewhat skeptical in embracing the crypto mechanism due to an absence of firm regulations to supervise digital currency transactions. SEC is a major player in the whole dynamic as it recently delayed a decision concerning Bitcoin ETF until September 30, 2018.
This has led to a mixed feeling in the crypto community, as enthusiasts all over the world viewed the establishment of bitcoin ETF as a stepping stone towards the adoption of crypto in the mainstream. It could have potentially opened the way for mass adoption of crypto in pension funds and other primary financial instruments.
Nvidia Says its Crypto Businesses is Never Coming Back, Officially Out
In a second-quarter earnings call, Nvidia CEO Colette Kress has said that the revenues from its cryptocurrency venture have declined to a point in which the chip manufacturing conglomerate will now have to back out from the crypto sector.
In early 2018, Nvidia expected its cryptocurrency mining equipment manufacturing venture to bring in at least $100 million in the second quarter and over $400 million throughout 2018. However, the actual revenue was only 18 percent of the projected revenue.
Given the massive discrepancy in the projected revenue and the actual revenue from its cryptocurrency business, Kress stated that the company would not commit to any contribution to the crypto sector in the near-term.
"Whereas we had previously anticipated cryptocurrency to be meaningful for the year, we are now projecting no contributions going forward," Ms. Kress said.
The 82 percent decline from the expected revenue of Nvidia's cryptocurrency venture is similar to the margin most cryptocurrencies fell by in the past few months. While bitcoin recorded a 69 percent decline from its all-time high, other cryptocurrencies such as ether and bitcoin cash have recorded 80 to 90 percent losses since January 2018.
The world famous exchange has added another trophy to its gallery by launching a fiat-to-crypto exchange in collaboration with Liechtenstein Cryptoassets Exchange (LCX).
As stated in the press release, Binance LCX exchange will make it possible for crypto investors in the region to carry out trading activities between the Swiss Franc (CHF) and the Euro (EUR), against major digital currency pairs, with more trading pairs to be added over time pending regulatory approval.
Per the statement, the Binance team will handle all the technical aspects of running the exchange including the provision of the underlying trading engines while Binance LCX will take care of customer service operations, legal matters, due diligence, KYC and AML activities, as well as communicating with the government.
The team has made it clear that they only need ten to 15 workers to run the exchange and the hiring process is ongoing. The CEO and Founder of Binance exchange, Changpeng Zhao iterated that the Binance LCX platform would create a reliable and sustainable "crypto-to-fiat gateway for professional and regular investors alike."
Saudi Arabia's financial watchdog, the Standing Committee, has stated categorically on August 12, 2018, that cryptocurrency trading is illegal in the kingdom of Saudi Arabia.
As stated in a press release by the regulatory conglomerate, it is now officially against the law for citizens and residents of the Kingdom of Saudi Arabia to engage in bitcoin trading as well as trading of digital currencies in general.
The regulatory body cited the super volatile nature of digital assets, security risks and lack of adequate government regulation as its reasons for placing an embargo on the nascent virtual asset class. An excerpt from the statement read:
"The committee warns all citizens and residents about drifting after such illusion and get-rich [quick] scheme due to the high regulatory, security and market risks involved."