Bitcoin Climbs Back to its $6,500 "Stablecoin" Mark: BTCManager's Week in Review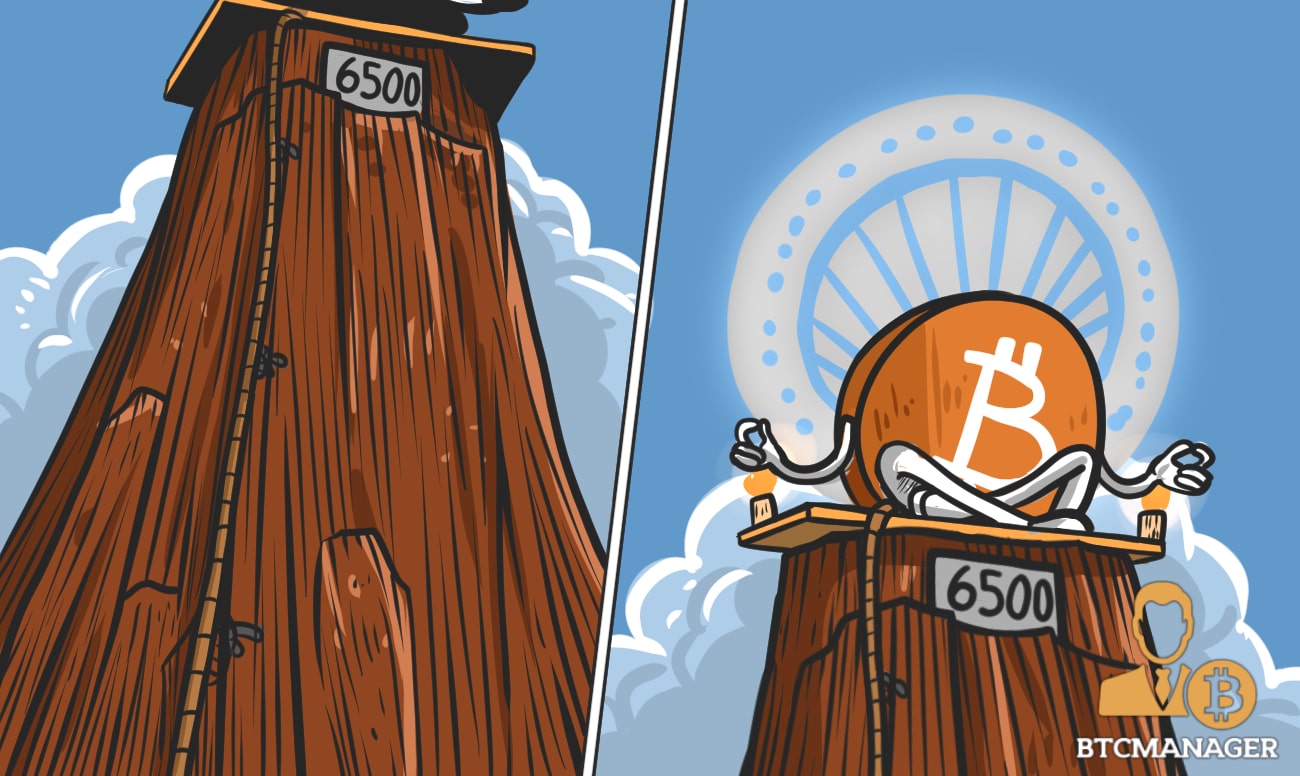 The price of bitcoin managed to regain the $6,500 mark, which the community is jokingly referred to as its "stablecoin price" as it has spent the better of the last two months hovering around this price level.
The price was pushed higher this week – by around three percent – thanks to crypto-positive news coming from Wallet Street.
Fidelity, the fourth largest asset management company in the world, announced a new cryptocurrency subsidiary, called Fidelity Digital Asset Services, which will provide trade execution and custodial services for cryptographic assets for the institutional investor community. This is huge news as hedge funds, family offices and mutual funds have now access digital assets using a trusted counterparty that they have an existing business relationship with.
Furthermore, Goldman Sachs and Mike Novogratz's Galaxy Digital Ventures both invested in digital asset custodian company BitGo in anticipation of further growth in this new digital investment asset class.
Additionally, the Chicago Mercantile Exchange (CME) announced that bitcoin futures trading on its platform is up by a whopping 41 percent in Q3 of this year as compared to the poor performances of the cryptocurrency futures trading product in previous quarters.
This shows that despite bitcoin's price performance in 2018, the interest for the world's leading digital currency has not been waning.
The altcoin market followed bitcoin and its around five perfect in the green week-on-week, with Stellar Lumens and 0x Protocol as the standout performers of the week, gaining 13 percent and 19 percent in the past seven days.
This week's contributions have been provided by Aisshwarya Tiwari, Nuno Menezes, Cindy Huynh, Ogwu Osaemezu Emmanuel, and Pratik Makadiya.
Fidelity Investments, a multinational financial services corporation that manages $7.2 trillion in assets announced the launch of Fidelity Digital Asset Services, a cryptocurrency custody and trading platform for institutional investors. According to a Forbes article published on October 16, 2018, Fidelity Investment's jump into cryptocurrencies could help the broader financial industry embrace the emerging asset.
CNBC reported that Tom Jessop, the head of Fidelity Assets, stated that the idea of creating a separate cryptocurrency company began during the middle of 2017. Jessop mentioned that their goal was to make popular cryptocurrencies like bitcoin more easily and widely accessible to keen investors.
While it's uncertain whether the demand for cryptocurrency investment has remained the same for Fidelity Investments since 2017, Fidelity Assets will experiment and invest in cryptocurrencies. In the long-run, they plan to make cryptocurrency investing easier for clients to understand and use. Although it may be a hard feat for many organizations, Fidelity is a large financial institution that already has 13,000 institutional clients. The financial organization is in a great position to enter the cryptocurrency industry as they can leverage existing technology and resources.
Although Fidelity is not going after retail investors, many believe that Fidelity's entrance into the cryptocurrency sector could help legitimize the asset class and boost the validity of cryptocurrencies in general.
The Chicago Mercantile Exchange, also known as the CME Group, has said in a tweet on October 17, 2018, that bitcoin futures trading on its platform is up by a whopping 41 percent in Q3 of this year as compared to the poor performances of the cryptocurrency futures trading product in previous quarters.
Per a MarketWatch report, CME stated earlier in August 2018 that volumes on its bitcoin futures contracts were down, with just 2,480 transactions executed.
As detailed in the firm's analysis, both its bitcoin futures average daily volume (ADV) and Open Interest have surged significantly in Q3 2018. The CME ADV moved from 1,854 and 3,577 in quarter one and two respectively, to 5,053 in Q3, excellently surpassing the digital assets performances in Q1 and Q2.
Same way the CME bitcoin futures contracts volume has experienced a massive hike, so also has the firm's open interest (OI), which is the total number of unsettled contracts held by traders.
Institutional interest in cryptocurrencies seems to be slowly and steadily gaining upward traction. Per a report published by Bloomberg, dated October 18, 2018, the Wall Street goliath Goldman Sachs Group Inc. and Mike Novogratz's Galaxy Digital Ventures have made a substantial investment in BitGo Holdings Inc.
Palo Alto-based BitGo is currently undergoing Series B fundraising and has been successful in amassing a commendable $57.5 million at the time of press. The investment made by Goldman Sachs and Galaxy Digital Ventures is estimated to be roughly around $15 million.
Perhaps more significant than the funds received, is a growing trust institutional investors have shown in cryptocurrency firms in recent times. For BitGo, the tag of being a Goldman Sachs funded startup will no doubt attract more investment from high net worth individuals down the road.
Although there are still no firm regulations for cryptocurrencies in general, investors can be observed steadily embracing the digital currencies as one of their preferred classes of assets to hold.
The SEC is actively trying to deliver best practices to investors on the digital currency and ICO markets. The agency just made available an online form that allows concerned investors to get specific orientation. They are also making sure that new companies and startups can easily access the correct information to helping them with compliance.
On October 19, 2018, the SEC made available a new form which allows FinTech investors and companies to request meetings and additional information to help them comply with the regulation. FinHub is the SEC strategic hub for innovation and financial technology and was the entity responsible for the development of the form.
Previously, the SEC developed an educative project in which it set up a website called HoweyCoins that would impersonate a coin offering to educate investors about what to look for before they invest in a scam. Instead of being sent to the ICO page, visitors clicking on the "Buy Coins Now" option would be taken to an educative panel with tools and tips from the SEC and other financial regulators.
Japan Looks to Ease Tax Reporting of Cryptocurrency Gains and Profits
To establish a seamless tax reporting mechanism for cryptocurrency gains in Japan, the Japanese Tax Commission held a debate on October 17, 2018, per a report by the local media outlet Sankei News.
According to the report published, the Japanese Tax Commission is contemplating ways by which gains or profits on cryptocurrency trading can be correctly reported to the tax authorities. The general assembly meeting held by the Commission is not surprising as crypto investment and interest continues to rise in the island nation.
Concerning the meeting held by the Commission, Minoru Nakazato, president of the Japanese Tax Commission, said: "Since it is necessary to take into consideration frameworks other than the taxation system and business practices, we will hold a small meeting of experts to deepen the discussion while listening to outside opinions."
On October 15, 2018, South Korean cryptocurrency exchange Bithumb announced they are launching their first official decentralized exchange, dubbed Bithumb DEX. The Korean crypto giant Bithumb is said to leverage OneRoot R1 protocol to increase the overall efficiency of the decentralized exchange.
The noteworthy crypto player in Korea, Bithumb has seen an exciting year of highs and lows. Earlier in June, the exchange had reported that it had lost $30 million worth of cryptocurrencies to hackers. Despite this setback, the exchange quickly managed to restore customers' funds by dipping into their resources. Soon after that, the exchange stopped registering new users owing to banking regulations introduced by the Korean government.
This week, the company said they were launching their first official decentralized exchange, Bithumb DEX. The official press release stated:
"Bithumb DEX was launched by Hong Kong-based blockchain & fintech BGEX Ltd. Working with blockchain service innovator OneRoot Network, we are committed to discovering and listing more valuable cryptocurrencies."
Chinese Consortium FISCO BCOS Looks to Challenge Hyperledger Fabric and R3 Corda
Some Chinese companies from the financial industry recently formed an Association known as the Financial Blockchain Shenzhen Consortium (FISCO). According to a press release published on October 18, 2018, FISCO is intent on building an open-source blockchain platform called the FISCO BCOS which unlike consortiums like Hyperledger Fabric, or R3 Corda, will operate without a token and be open to the public.
FISCO consists of many key financial and technology-based companies including WeBank (a digital bank initiated by Tencent), Tencent, Huawei, Shenzhen Securities Communication, and many others. The Chinese consortium has quickly grown to become one of the most significant associations in China with over 100 members.
FISCO BCOS plans to build an Open Consortium Chain, a concept that WeBank first introduced. Unlike traditional blockchains, the open consortium chain is not a single blockchain but a type of blockchain application system. It will be made up of a handful of blockchain applications designed to serve the mainstream public. BCOS will make its international debut from November 12 to 14, 2018, at Singapore's fintech festival.