Bitcoin Continues to Climb on the Back of Positive Momentum: BTCManager's Week in Review April 22, 2019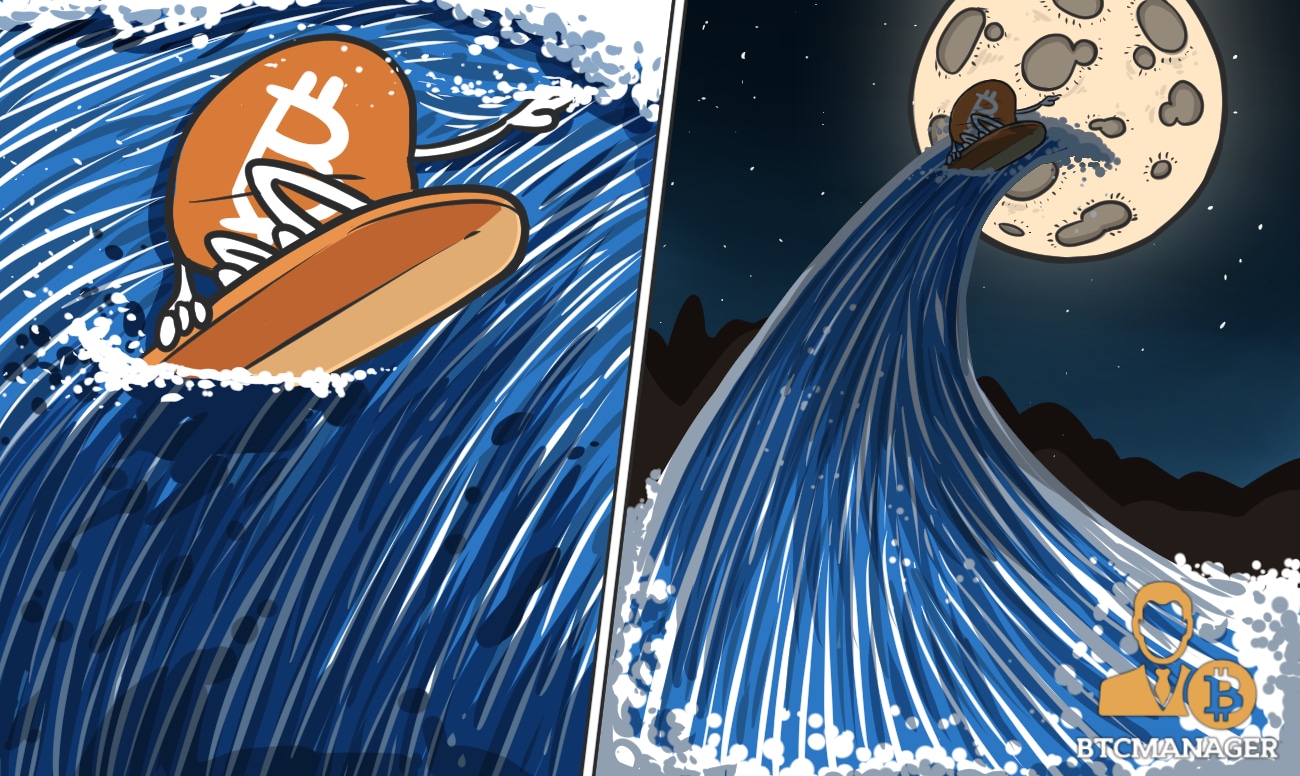 The price of bitcoin has increased by over four percent week-on-week to $5,333 per coin as investors are starting to buy bitcoin again now that the 'crypto winter' is considered over and the sentiment is turning bullish.
The Big Stories
The biggest news of the week in 'all things bitcoin' was the announcement by Japanese retail giant Rakuten that it has opened registration for its cryptoasset trading service and wallet, Rakuten Wallet. The Japanese corporation has been involved in blockchain and cryptocurrency ventures before, but this move could help to boost bitcoin adoption more than any of its previous crypto-related business decisions.
Furthermore, Coinbase, which provides a very popular crypto buying app, has announced that it has expanded its services to eleven more countries in a move that could help to drive cryptocurrency adoption in these markets.
On the regulatory front, the Japanese FSA has told local exchanges to step up their cold storage protocols to increase fund security and the RBI has omitted cryptocurrency businesses from its fintech sandbox, in what is another clear sign that the central bank wants to push cryptocurrencies out of India's borders.
Additionally, the Enterprise Ethereum Alliance (EEA) announced the launch of a blockchain-neutral Token Taxonomy Initiative that will address the need for establishing universal and easy to comprehend definitions for digital tokens. This comes at a time when a Cambridge University report has found that a lack of standardized terminology is one of the main impediments to a consistent regulatory response across the world.
In the altcoin market, we saw a mixed picture with top coins and tokens almost equally in the green or red, with Bitcoin SV (BSV) being the biggest underperformer with a 15 percent drop week-on-week following delisting announcement for BSV on several notable exchanges including Binance and Shapeshift.
The week's contributions have been provided by Aisshwarya Tiwari, Ogwu Osaemezu Emmanuel, Osato Avan-Nomayo and Tokoni Uti.
As part of preparations for the June 2019 official launch of its cryptocurrency trading service, Rakuten Bank, the largest e-commerce outfit in Japan has kicked off the new user registration process for its Rakuten Wallet, which will enable millions of its customers to trade bitcoin and altcoins.
As stated in its press release, Rakuten Wallet Co., Ltd., a subsidiary of Japanese e-commerce giant, Rakuten Group, has started accepting applications from prospective users of its cryptocurrency platform which is set to go live later in June this year.
In a bid to give users the best experience possible, Rakuten claims it has implemented artificial intelligence (AI) powered customer care service that would run on a 24/7 basis, responding to all customer inquiries in real-time, all through the year.
The firm has also hinted that it plans to develop a smartphone app that would make it easier for clients to trade crypto-assets, deposit and withdraw funds on the go, from anywhere across the globe.
The Financial Services Agency (FSA) of Japan is mandating cryptocurrency exchanges in the country to enhance security features on their cold wallet storage, Reuters reports, April 16, 2019. This directive comes as security experts warn that internally-orchestrated exchange hacks are becoming a clear and present danger.
According to Reuters, an anonymous source close to Japan's Financial Services Agency (FSA) stated that the regulatory body wants exchanges to beef up their internal security. The FSA also identified security protocols for cold wallets as a likely weak-point for many platforms.
For the FSA, many platforms in the country are not optimizing the security of their cold wallet storage. The anonymous source also highlighted an example where employees put in charge of administering the cold wallets weren't rotated periodically.
The focus on cold wallet storage follows the restrictions placed by the FSA on the use of hot wallets by exchange platforms. This restriction emerged following numerous cyber attacks against Japan-based platforms, leading to the theft of hundreds of millions of dollars in cryptocurrencies.
Intercontinental Exchange Inc. (ICE) the company behind the highly-anticipated bitcoin trading platform Bakkt has turned to U.S. state watchdogs to get the stalled project the necessary regulatory approvals. This according to a Bloomberg report published April 17, 2019.
The bitcoin platform's application currently sits with the U.S. Commodity Futures Trading Commission (CFTC) for evaluation.
Per sources close to the matter, the CFTC is worried about how the platform will store clients' crypto tokens. Further, the regulatory body is also concerned about the safeguard mechanisms in place to prevent possible theft and manipulation of digital tokens. This doesn't come as a surprise as in recent a number of exchanges around the world have succumbed to hacks and been accused of manipulating the market.
Now, sources in-the-know suggest that in order to appease the CFTC, ICE is mulling securing a license from New York financial regulators that would allow Bakkt to hold customers' digital assets on its own. Three people, who chose not to be identified, told Bloomberg that these discussions aren't public yet.
However, it's worthy of note that even after bagging a license from New York regulators, Bakkt would still require an official go-ahead from the CFTC for a full-fledged launch.
According to a Bloomberg report published April 18, 2019, Binance, the world's largest cryptocurrency exchange by reported volume, has launched its own blockchain called Binance Chain to encourage crypto startups to issue their tokens directly on the trading platform.
Binance is unarguably one of the busiest entities in the crypto industry. The Malta-based exchange recently announced that its Singaporean fiat-to-crypto exchange is primed to launch towards the end of April 2019. Further, Binance's highly-anticipated decentralized exchange (DEX) is also expected to go live in the same period.
Now, in a bid to knock smart contracts platform Ethereum off their perch, Binance has launched an in-house distributed ledger named Binance Chain. The newly launched blockchain network will not only attract business ventures from competing for blockchain networks but will also serve as the foundation for Binance's DEX.
It's also worth highlighting that with the launch of Binance Chain, Binance's native token Binance Coin (BNB) will move off the Ethereum network to the newly christened blockchain.
According to the official announcement, the Binance Chain Explorer and Web Wallet will first be made available to selected partners for beta testing. They will be open to public access around April 23, 2019.
In a bid to boost the adoption of cryptocurrencies, Coinbase announced on April 17, 2019, that they have expanded their business operations to 11 more countries.
There have been a lot of new changes at Coinbase. On April 11, 2019, they launched their Coinbase Visa debit card as a result of a collaboration with Paysafe. The card was introduced as a means to push crypto adoption and was made available to users in the United Kingdom.
Prior to this, Coinbase had introduced tax support for their US users on January 25, 2019. All these changes indicate a desire to increase crypto adoption in the mainstream and allow users to make use of digital currencies as easily as they would fiat currency.
Now, they have taken yet another step towards that goal as on April 17, 2019, Coinbase announced via a blog post that they will be expanding their crypto-to-crypto support to 11 more countries around the world.
The Enterprise Ethereum Alliance (EEA) on April 17, 2019, announced the launch of a blockchain-neutral Token Taxonomy Initiative which will address the need for establishing universal and easy to comprehend definitions for digital tokens.
One of the major problems plaguing the embryonic cryptocurrency and blockchain industry is the excess of technical jargon it is flooded with. For any industry to win mainstream acceptance, it is necessary that its nuts and bolts are easy to comprehend for the average Joe.
Now, in a bid to create a set of uniform, non-technical definitions for digital tokens, the EEA, in partnership with major global companies have launched a blockchain-neutral Token Taxonomy Initiative.  Some of the corporate heavyweights involved in the initiative include the likes of Accenture, EY, JPMorgan Chase, ConsenSys, Intel, Microsoft, and IBM, among others.
The goal of this initiative is to define digital assets in non-technical and cross-industry terms to drive their adoption at the enterprise level. The initiative will work towards defining tokens using everyday analogies so that they are easy to understand for everyone.
EEA's press release notes that digital tokens possess the potential to "disrupt global economics and radically change how commerce will be transacted."
It adds that while digital tokens for different industries do exist today, there's an absence of an all-inclusive venue where all industry players can come together to build tokens that can seamlessly inter-operate across various organization domains.