Bitcoin Remains Firm Around $6,500 Mark for Fourth Consecutive Week: BTCManager's Week in Review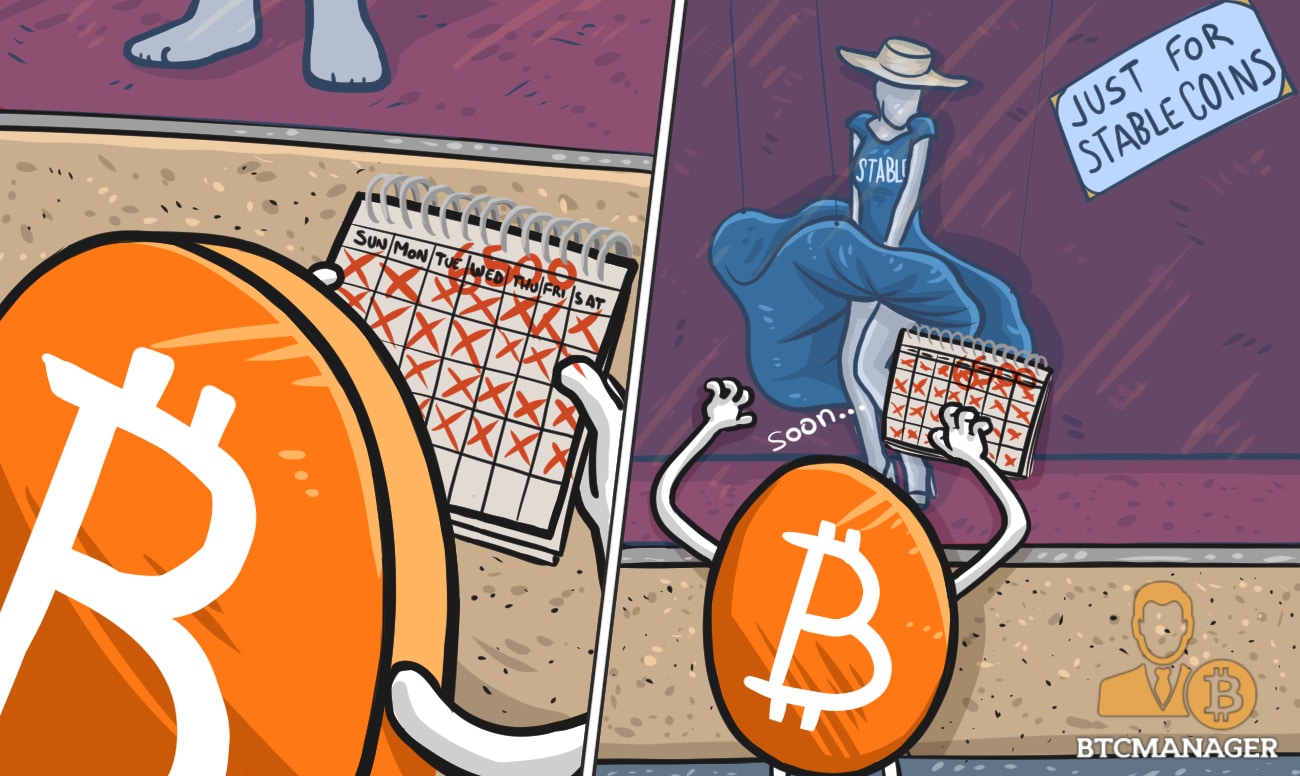 The price of bitcoin remained stable around the $6,500 mark through the week to close effectively unchanged versus last week's close. This marks the fourth consecutive week that bitcoin has found a footing around the $6,500 level, which has prompted several bitcoin community members to refer to bitcoin as the "new stablecoin."
While bitcoin bulls would prefer for BTC to start rallying towards the $10,000 mark, bitcoin holders can be content with the price stability in a market that is still healing its wound from a massively bearish 2018.
Moreover, every week more headlines are covering an increase in bitcoin adoption and institutionalization, which have the potential to help bitcoin reach new highs in the not-so-distant future.
For example, this week, the Yale Endowment Fund has started to invest in cryptocurrencies by placing funds into cryptocurrency investment funds. Furthermore, payments company Circle now enables investors to purchase baskets of digital currencies, called "collections" through the company's cryptocurrency investing platform and New Zealand's cryptocurrency exchange, Cryptopia, has managed to double its user base to two million within the last twelve months.  
The altcoin market, which has suffered more than bitcoin throughout the year, is closed slightly in the red this week. XRP stood out last week as it dropped almost 20 percent in light trading volumes after the previous week's impressive rally and TRX managed to gain around 15 percent week-on-week in anticipation of its Tron Virtual Machine launch.
This week's contributions have been provided by Cindy Huynh, Priyeshu Garg, and Rahul Nambiampurath.
David Swensen, the chief investment officer of Yale's $29.4 billion endowments, is reportedly making his first big bets on cryptocurrency following the recent swoon in the price of bitcoin and other digital currencies.
According to a report from CNBC on October 5, 2018, Swensen has invested in two venture funds dedicated to cryptocurrency. Citing people familiar with the matter, CNBC reported that Swensen's team invested in Andreessen Horowitz's inaugural $300 million crypto fund, which closed in June 2018.
The same sources, who declined to be named due to the confidential nature of the investment, added that Swensen also backed Paradigm. The company is a new blockchain and cryptocurrency-focused fund started by Coinbase co-founder Fred Ehrsam and former Sequoia Capital partner Matt Huang, and Charles Noyes, an ex-employee of crypto fund Pantera Capital.
Circle Targets new Cryptocurrency Investors with "Collections"
Circle has announced a new feature for its Circle Invest cryptocurrency investment platform, called Collections. The option, available to all users with immediate effect, will allow an investor to purchase a group of cryptocurrencies at once.
For now, Circle is offering three cryptocurrency categories, or as the press release calls it, 'Collections.' Each category gets its label based on the included cryptocurrencies, which at this time include 'payments,' 'platforms' and 'privacy.'
The Circle Invest app was released in March 2018 with the aim of simplifying the crypto purchase process. Launched in 46 U.S. states, the app offered instant deposits and a feeless pricing structure. The release post noted, "With no minimums, instant deposits, no commissions on a variety of coins, performance tracking and more – we've made it fast, cheap and simple to invest in crypto and digital assets."
Although the U.S.'s cryptocurrency definitions regulations are entirely unclear, policymakers are gaining greater clarity as they continue to resolve more cryptocurrency-related cases.
According to the CFTC's press release published on October 3, 2018, the U.S. District Judge Rya W Zobel gave the CFTC authority to prosecute My Big Coin Pay, the parent company of MyBigCoin.com, a cryptocurrency payment platform, for fraud and misappropriation.
The CFTC filed charges against My Big Coin Pay as they broke many rules under the Commodity Exchange Act (CEA) including fraud and misappropriation. In the Civil Action document, the CFTC explained that My Big Coin Pay was a cryptocurrency scheme that offered the sale of a fraudulent cryptocurrency token called My Big Coin. Crater encouraged retail investors to purchase the coin by providing misleading and untrue statements about its value, usage, trade status, and financial backing.
The U.S. District Court agreed with the CFTC and noted that My Big Coin was a commodity under CEA. The court found that the term commodity should be broad as the expansive definition of the term ensures that the CEA's regulations can cover the general market comprehensively.
Cryptopia, the host of the world's largest range of cryptocurrencies, has increased its worldwide user base by 116 percent since December 2017, and is now counting more than 2 million users, the company announced in a press release on October 4, 2018.
New Zealand-based Cryptopia, the host of the world's broadest range of cryptocurrencies, is one of the companies reaping benefits of the crypto craze.
In the press release, the company announced that it had increased its worldwide user base by 116 percent since December 2017. The company, founded in 2014 by Rob Dawson and Adam Clark, said that it now has more than 2 million active users.
The incredible increase in the number of its users, however, fades in comparison with the rise in the company's headcount. According to the company's website, Cryptopia grew its team extensively and now has over 90 employees. The number is a 389 percent increase in headcount in just nine months.
Brazil: Antitrust Watchdog Sends Questions to Crypto Exchanges After Bank Account Closures
The anti-trust regulator in Brazil has asked crypto exchanges a list of questions about their bank accounts, which were abruptly closed in the past few months. The story has also been covered by local news publications, including financial newspaper Valor Econômico on October 19, 2018.
Ten Brazilian cryptocurrency exchanges and one private/OTC (over-the-counter) dealer have been given till October 19, 2018, to answer a questionnaire from the country's antitrust authority, The Brazilian Administrative Council for Economic Defense (CADE).
The survey starts by asking for the identity and contact information of the individual that is completing the survey. It then proceeds to ask for detail on how well the exchange is performing in the region. A few questions later, the regulator directly approaches the account closure topic by asking whether the company has been affected by the banks' actions. The rest pertains to how each cryptocurrency exchange has been handling customer data and the anti-money laundering measures being taken.
The Brazilian banks in question, including Bradesco, Itaú, Banco Santander, Banco do Brasil, Inter and Sicredi, have also submitted responses to a different CADE survey issued last month. They argued that the lack of regulation had brought increased risk to them, which resulted in the termination of accounts as a precautionary measure. Bitcoin and other cryptocurrencies have long been criticized for being lucrative to malicious actors by governments around the world.
Crypto exchange giant Binance has announced that it will invest more than USD$2.5 million in TravelbyBit, the Australian startup that facilitated the world's foremost digital currency-friendly airport in Brisbane. In a statement released on October 3, 2018, Binance will work with TravelbyBit to establish a global point-of-sale (POS) payment system, integrating blockchain technology into major airports throughout the world.
At selected international airports including Brisbane Airport, travelers can now visit airport merchants and make use of a digital currency mobile wallet for fast, easy, and safe POS payments.
TravelbyBit has a multi-currency payment platform. Although it currently supports payments in Bitcoin (BTC), Ethereum (ETH), and Litecoin (LTC), travelers will soon be able to also make payments with Binance Coin (BNB) at TravelbyBit merchants.
U.S. Justice Department Accuses Russia of Funding Cyberattacks With Bitcoin
The Justice Department indictment against seven Russian military officers for a series of alleged cyber attacks contained another allegation that Russia turned to bitcoin to fund its efforts, Market Watch reported on October 4.
The indictment, while filed back in July 2018, was unveiled to the public only on October 3. In the indictment, the Grand Jury for the District of Columbia charged seven Russian military officers as being responsible for hacks that were used to Russian strategic interests, notably a bid to delegitimize the efforts of international anti-doping organizations.
According to the indictment, the accused officers were members of a military intelligence agency called the Main Intelligence Directorate of the General Staff (GRU), which had multiple units engaged in large-scale cyber operations that involved staged releases of stolen documents.
Some of the most notable attacks the agency performed were hacking email accounts of employees of Hillary Clinton's presidential campaign, as well as hacking into the Democratic National Committee's (DNC) computer network.
Hacker Gets Away With Proverbial Peanuts After Successfully Breaching the Pigeoncoin Network
After spending a whole day breaching and stealing from the Pigeoncoin network, a hacker managed to get away with tokens worth only $15,000. The attack reportedly took place on Sep 27, 2018, and was carried out by exploiting a bug in the Bitcoin code.
According to reports, the perpetrator(s) stole nearly 235 million Pigeoncoin tokens which amount to roughly $15,000. Of course, that's not a small amount per se, but things could have ended up far worse considering that most attacks of this magnitude usually end up inflicting damages worth hundreds of thousands of dollars or even higher.
Users of the Bitcoin Talk forums first spotted the breach after they came across suspicious blockchain activities. The source of the offense was later traced back to a user named "mrsandman1."
An internal investigation later led to the discovery that the attackers didn't exploit any Pigeoncoin vulnerability. Instead, it was a bug in the Bitcoin code that granted them access to the network.
Said bug, dubbed CVE-2018-17144, was found and patched eight days before the attack. Many security experts called it one of the most notorious bugs in the history of the Bitcoin network.